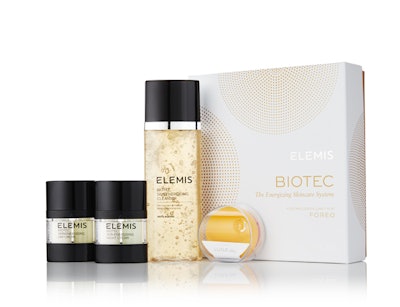 With the New Year right around the corner, many of us are adding better skincare regimens to our growing list of resolutions. Detox from the holidays and give yourself a fresh start with the new ELEMIS x FOREO BIOTEC Energizing Skincare System, a 28-day regimen for radiant, glowing skin.
This exclusive partnership occurred as a result of ELEMIS fans noticing superior results when pairing the ELEMIS BIOTEC Skin Energizing Cleanser with the FOREOLuna Play Sonic Face Cleanser. The collaboration combines the proven results of ELEMIS' BIOTEC Collection with the transformative technology of the FOREO Luna Play for ultra cleansing.
Available starting December 17, the skincare system retails for $140 and includes:
ELEMIS BIOTEC Skin Energizing Cleanser: Charged with a trio of acids in an energizing electrolyte solution, the deep cleansing action helps reduce surface oils and impurities, while helping to rebalance the skin and leaving complexion looking fresh, energized and beautifully revived.
ELEMIS BIOTEC Skin Energizing Day Cream: This energizing day cream supports good cell energy for a hydrated and balanced complexion.
ELEMIS BIOTEC Skin Energizing Night Cream: The energizing night cream is powered by the patent-pending BIO-ENERGY complex of encapsulated zinc and copper, leaving skin smooth, energized and replenished.
FOREO Luna Play Sonic Face Cleanser: This small but mighty 2-zone brush offers 8,000 T-Sonic pulsations per minute to deeply and gently cleanse, leaving you glowing and gorgeous.
For more info or to purchase, visit elemis.com.