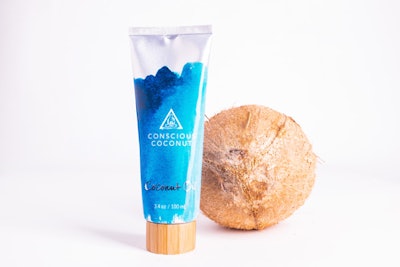 Coconuts are praised for their multiple beauty and health benefits—more specifically, coconut oil provides incredible moisturizing properties for hair, skin and more. If you're looking for a product that has it all, Conscious Coconut's Coconut Oil is the answer to your prayers. The 100 percent USDA organic, fair trade certified, virgin, cold-pressed coconut oil makes a great body moisturizer, hair defrizzer, teeth whitener, makeup remover and so much more. It comes in gorgeous packaging and fits perfectly into any beach bag, purse or carry-on. Recently, Launchpad had the opportunity to sit down with founder Danielle Conte, who shared the story behind her company, favorite wellness tips, and more.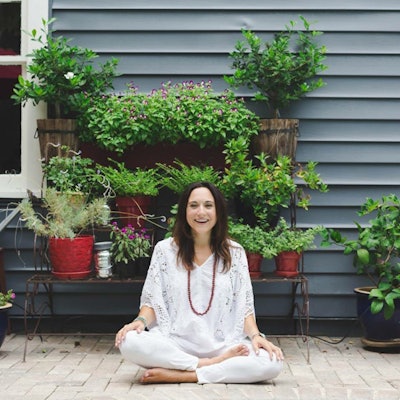 LAUNCHPAD: How did you choose your company name?
It was simple and mindful, just like our coconut oil! Also, coconuts are referred to as "Co Cos" around the world.
LAUNCHPAD: Tell us about your journey to get to where you are now.
After graduating from the University of Florida in 2007 with a degree in finance and a minor in entrepreneurship and environmental science, I accepted an investment banking position from Citigroup focused on renewable energy and municipals.  Fast-forward to year 3 and my 90-hour work weeks weren't ending anytime soon. This was my "dream job" so I had a difficult time quitting. I finally worked up the courage to ask for my first vacation in years, even though I'm a traveler. On my flight home from New Zealand, I wrote an email to my boss resigning. The following day my boss asked if I was nuts. My response: "Probably, but if I can work this hard for someone else, I can only imagine what I can do for myself and those in need." Shortly after, I booked a flight to Bali to teach math and English.
LAUNCHPAD: What inspired the creation of your company?
I had only been on Bali for a few days and I crashed my motorcycle. Outside of Ubud, a healer gave me coconut oil for my injuries. I remember thinking, "Is this guy crazy? He wants me to use coconut oil on my body?" I'm a clean eater so consuming coconut oil wasn't foreign to me, but using it for skin and hair care seemed weird. Fast forward a few years and I have the smallest scar on my arms these days! I ate coconut oil everyday and was using it topically as well. I started piecing together that my energy was higher than it had been in years, my face cleared up at 28, and my skin was super soft. I was using this organic oil from MotherEearth in 20 different ways and it was making me healthy and beautiful. I had to share!
Over the next year I taught English and computer skills to Balinese children, traveled around Southeast Asia, dove into my yoga and meditation practice, and more importantly, spent time with people that needed care and support. Everyday of my journey I was overwhelmed by the endless abundance of love and positive energy these beautiful people were sending out to the world, despite their modest means and dire living circumstances. I remember thinking, Tthese people get it." I want to be that happy and appreciative. 
I've always been committed to starting a social enterprise, but why not help everyone along the journey? I wanted to ingrain transparency, respect and love into every nook and cranny of my business. After gifting friends and family with blue mason jars of coconut oil during 2013; a close friend told me to stop talking about it so much and sell it.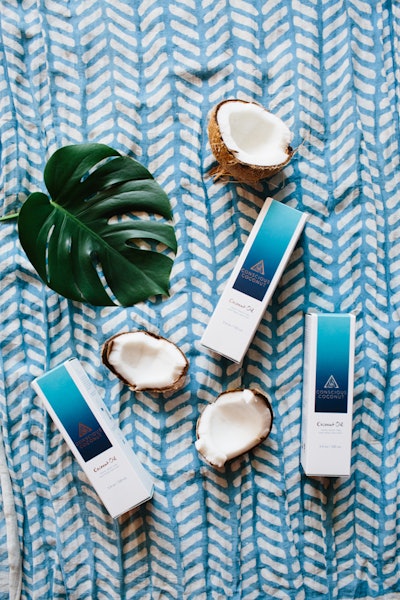 LAUNCHPAD: What inspired the packaging design?
Right after I decided to start Conscious Coconut, I boarded a flight with an oversized jar of coco by accident. As TSA was tossing my jar in the trash, I realized I had to put coco in something convenient, since my travel essential had just been chucked. I went back overseas in 2014 to work directly with our factories to figure out how to package coconut oil differently. The toxins in plastic leach into coconut oil so a plastic tube wasn't going to work for us. We use a laminate aluminum (toothpaste) tube which allows you to work with coconut oil in all consistencies. The tube is a condensed version of all my favorite colors and textures. Turquoise, ombre and bamboo?! It brings a smile and sense of peace every time I pick up a box and tube, even two years later. Plus the tube and lid are recyclable and the box is made of recycled paper and packaged by adults with mental disabilities. I can literally feel the love when it's in my hand!
LAUNCHPAD: Tell us more about your product and its benefits.
What does coconut oil NOT do? I divide it up into three main areas: daily uses, healing, and wellness. I use it as my makeup remover, shaving cream and head-to-toe moisturizer for scars, sunspots and rashes, then I plop a tablespoon in my coffee as a metabolism and immunity boost. The high percentage of lauric acid in coconut oil—a medium chain triglyceride, has potent antifungal, anti-inflammatory and antimicrobial properties. Lauric acid renews your skin, accelerating the healing process for repair and renewal of damaged tissues. It also strengthens the immune system and boosts the metabolism. It optimizes our body's absorption of vitamins, minerals and amino acids, enhancing our overall health.  
I receive daily texts, emails, calls and posts excitedly informing me that, "Did you know coconut oil makes my feet soft?" to "My under eye area looks like a baby's tush!" So I say try it, you might like it! Whatever we put onto our skin, our largest organ, is just as important as what we eat. So using certified organic, hand-pressed, virgin coconut oil seems like a good way to go!
LAUNCHPAD: Any plans for expanding your brand?
Conscious Coconut is a one-ingredient wellness company and we're committed to coconut oil. It's organic, simple and convenient to use one product for 20 different, daily uses. When I started CC I contemplated a coconut oil-based skincare line. But that's not where we're going. We make the highest quality coconut oil packaged beautifully, sustainably, conveniently and with love. So that's what we'll continue to do (in different shapes and sizes!)
LAUNCHPAD: How do you practice wellness in your life?
Wellness is a never-ending dance of prayer, meditation, gratitude, reading, yoga, eating, giving, dancing, sleeping, laughing and loving. One minute I'm wearing my favorite mala beads toting around a Buddha in my bag, the next I'm teaching chair yoga to adults with disabilities, concocting "healing potions" as my family calls them, grounding myself with a warm ginger tea, or running off to Caladesi Island for a much-needed stroll through nature with my husband Andrew and our new baby Eva. Or maybe it's just a little extra sleep! I do what I need to do to feel good in that moment. Because when you feel good, you're a light to everyone around you which continues to spread. But I've found my personal daily recipe of a morning gratitude practice, clean eating, grounding teas, yoga, hard work, not being hard on yourself, constant forgiveness, hugs and giving love helps sustain my energy. Baby kisses don't hurt either!