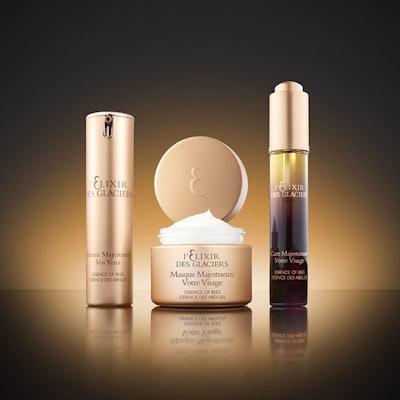 Let's talk about the birds and the bees...well, the bees mostly. Swiss luxury skincare brand Valmont has partnered with Pollinator Partnership, a non-profit organization dedicated to the preservation of bees and their ecosystems, to celebrate the launch of Essence of the Bees—the newest skincare introduction from L'Elixir des Glaciers, the brand's most prestigious skincare range.
Bee hives produce honey, propolis and royal jelly, which are renowned for their numerous health and beauty benefits. Honey has powerful moisturizing and skin repairing properties, propolis is known for its purifying virtues, and royal jelly helps decrease inflammation. L'Elixir des Glaciers is a tribute to bees, flora, science, crafts and luxury, and for the first time ever, the line has brought together the essence of the ingredients in the hive to create three standout products: Cure Majestueuse, a nourishing beauty oil; Masque Majestueux, a nourishing massage mask; and Sérum Majestueux, an eye serum. The products are available starting September 2017 at boutiquevalmont.com, saksfifthavenue.com, Hotel Bel-Air Spa, and SPA Valmont at Hotel Plaza Athénée.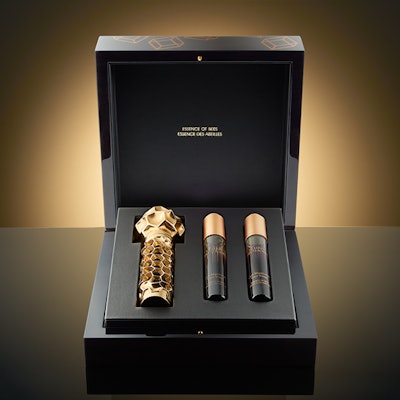 Didier Guillon, president and art director of Valmont Group, has designed 120 exclusive and limited-edition box sets that were inspired by the beauty of beehives. The lacquered wood box, which comes with three vials of Cure Majestueuse, contains an 18-carat gold-plated sheath featuring honeycomb geometric shapes that are a tribute to the Catalan artist, Gaudí. 
During the month of September, Valmont will donate $10 from every purchase of Essence of the Bees to Pollinator Partnership in order to help educate and raise awareness about the various challenges that bees face. In addition, the brand has demonstrated their global investment in saving honeybees by creating sustainable beehives in Switzerland. 
Valmont North America also celebrates its partnership with The Hotel Bel-Air Spa in Los Angeles, California, which will offer the new Vitality of the Stars facial designed exclusively for their spa by Valmont. The facial will incorporate signature butterfly-massage technique to help achieve exceptional anti-aging results.
Visit the spa's officie site here.