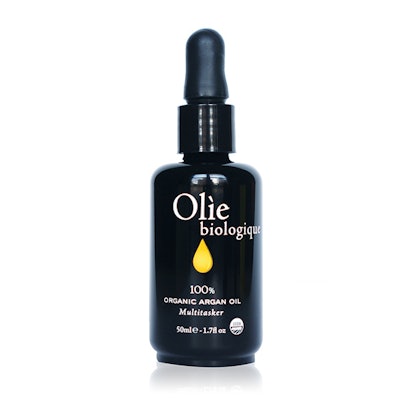 Linda Thompson held a variety of corporate jobs (including a stint at luxury retailer Cartier) prior to becoming a beauty entrepreneur and starting Olìe Biologique, which she says was "a bit by accident." Her line is a complete brand of bespoke, organic facial oil blends for men and women that are finely handcrafted and harmonious in design with devotion to clean, non-competing ingredients. Born in in Montreal and European by descent, Thompson currently lives in New York City and Martha's Vineyard, where she is hard at work on expanding her product line.
"Being new to the United States, I'm sensitive to trends and how people in my country consume products," says Thompson. "In beauty, new is the name of the game. I'm also both a dreamer and perfectionist, striving to deliver the best ingredients and have the most real rapport with my end users. Being distinctive and an outsider can get you far." Read on to learn more about the story behind her unique skincare brand.
LAUNCHPAD: What does Olìe Biologique mean?
Literally, Olie is an ancient French word for "oil." Biologique means "organic."
LAUNCHPAD: What inspired the brand's creation?
In 2010 I was in Paris for Cartier, culling compelling editorial stories from their history. Traveling between Paris and New York, my skin and mood were left completely dehydrated; that is, until a Parisian pharmacist presented me with a small vial of scented oil. Oil for the skin at this time was a rarity in the U.S. skin market. When I found my skin craving the scarce precious oil and the transformative glow it brought to my complexion, I set out to create a product suitable for everyone, every day, everywhere—and Olìe Biologique was born. Based on the very diverse demographic of customers who have been using and loving Olìe, I feel that we've been able to accomplish this goal.
LAUNCHPAD: When did Olìe Biologique launch?
In 2012. My startup company has gained a significant niche market foothold and won industry awards through its outstanding product offerings, creative co-branding and social media marketing. Olìe was the only indie brand ever selected for the 2013 Music Cares/Grammy Gift bags presented to guests and musical honorees, and nominated for the prestigious CEW/QVC Beauty Quest Award in 2014.
LAUNCHPAD: Tell us about your product line.
Olìe is a line of organic plant oils and blends that don't contain parabens, artificial fragrances, synthetics or chemical preservatives, some certified and all are cruelty-free. Olìe is focused on safe, high-performance luxurious face oils that people love to use as a daily ritual. My best-selling product is as beloved by men as it is by women. Also, we create only oils, vs. many brands that offer an oil among other products.
The Olìe experience is memorable to most oil newbies. People are shocked at how un-oily it is! Pregnant women feel safe using it on their bellies. I think this is remarkable in an industry full of hype, plus these results from from 100 percent pure and organic ingredients. 
Olìe is crafted with incredible attention to detail. Every aspect of each oil blend is carefully considered, from the potency and feel to color and scent. Not all oil blends are created equal. I offer less well-known oils like baobab and sacha inchi, but they must be blended correctly with essential oils. To me, each blend is like music. Are you going to use harmonious combinations or discordant combinations? That takes craftsmanship.
Finally, the Olìe Biologique collection is purposely focused and versatile. This means consumers can simplify their beauty routines with fewer steps and products, and we make it easy to choose which product is best for you.
LAUNCHPAD: Any future plans for the brand?
I've been approached by a significant lifestyle blogger to create an exciting new co-branded product that we'll sell exclusively on Amazon, launching in Fall 2017. I'm also working on a deal with a female singer/songwriter. We'll probably expand our Whisker Oil Shave Oil for the guys. What I like most is creating. I'd be terribly bored if I had to do just one thing.
For more information or to purchase for your salon, visit Olìe's official site.