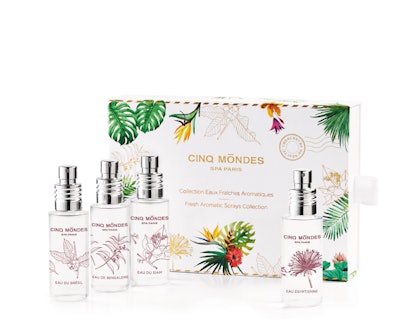 With fall just a few weeks away, it won't be long before the holidays are upon us—which is why now is the perfect time to start planning your salon's holiday retail area. Luxury brand Cinq Mondes, which offers a high-end line of botanical spa products for the skin and body, has launched the Fresh Aromatic Sprays Holiday Collection, featuring four aromatic sprays in an elegant gift box decorate with lush foliage (because palm print is so hot right now).
Each spray is based on an original aromatic composition that has been orchestrated by a renowned perfume designer. Spray around your salon and take clients on a sensorial journey while they receive their beauty services; these fine mists can also be applied on the body, hair and pillow for ultimate relaxation, well-being and comfort. They make the perfect gift for others—and the perfect gift for one's self.
Eau Egyptienne
Created by perfume designer Olivia Giacobetti, this Fresh Aromatic Spray is a contemporary adaption of the famous Kyphi therapeutic potion with 11 essential oils created for the first Pharaoh-Queen Hatshepsut. According to the famous Greek philosopher Plutarch, the potion had the power to "soothe tension and make dreams brighter." The bewitching Eau Egyptienne fragrance is Cinq Monde's olfactory signature.
Eau de Bangalore
One of the most famous buildings in India, the Taj Mahal was built by the Emperor Shah Jahan as a symbol of his eternal life for his wife, Mumtaz Mahal. French perfumer Jean-Pierre Bethouart designed this Fresh Aromatic Spray with a warm blend of cardamom and vanilla.
Eau de Siam
Also created by Bethouart, this Fresh Aromatic Spray draws its inspiration from Apsaras—celestial nymphs in Hindu and Buddhist mythology that symbolize pleasure of the senses and mind. One's senses go on a journey to the kingdom of Siam and its sacred essences via this fresh blend of bergamot and guaiac wood.
Eau de Bresil
Pay homage to Banho, the ancient art of bathing in Brazil, where natives bathe under waterfalls in the heart of the Amazon forest while communing with the refreshing and purifying power of water. Giacobetti combined lime pulp and white wood with coconut water to create this harmonious Fresh Aromatic Spray.
For more information, visit cinqmondes.com.