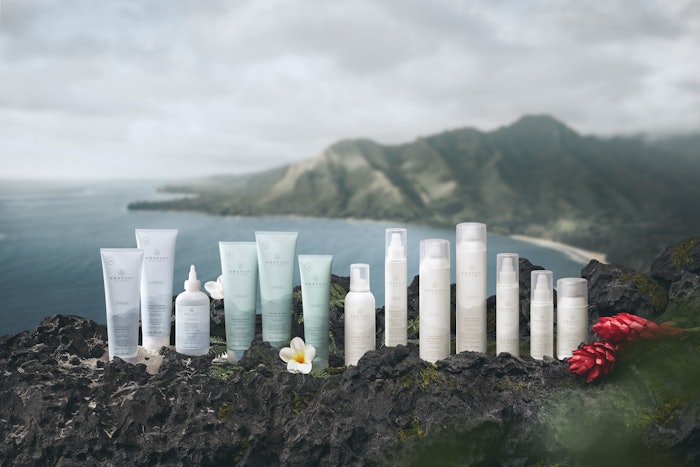 Courtesy of Paul Mitchell Systems
The new collection instantly transforms hair with deep hydration, supreme softness and shine without the weight. But hair's not the only thing transforming; Paul Mitchell has unveiled the all-new look to the entire Awapuhi Wild Ginger Collection. Designed in homage to the brand's Hawaiian heritage, the reimagined packaging is made from at least 25 percent post-consumer recycled materials to reach the brand's environmental goals.  
Paul Mitchell's ongoing commitment to sustainable business practices and journey to make a positive impact on people and the planet inspired the change to the Awapuhi Wild Ginger packaging. Black packaging almost never gets recycled, so to prioritize recycling and innovation, the new bottles and tubes are made from 25 to 100 percent PCR materials. What's stayed the same? The color-safe, sulfate-free (without SLS, SLES, ALS), high-performing formulas and tropical-inspired fragrances that Awapuhi Wild Ginger fans love.  
To continue adding to the beloved Awapuhi Wild Ginger line, the launch of HydraSoft invites professionals and guests to treat every strand to a smooth, touchable, healthy-looking finish. When using the HydraSoft Shampoo and Conditioner as a regimen, hair condition improves by 89 percent, resulting in softer, smoother-looking hair. The line is infused with a HydraTriplex blend of amino acids, vegetable protein and nourishing oils to deeply hydrate and bind the seal the hair. It also contains Hyaluronic acid, vegan collage, and plant extracts to add optimal hydration without weighing hair down.  
The new Awapuhi Wild Ginger HydraSoft Collection includes: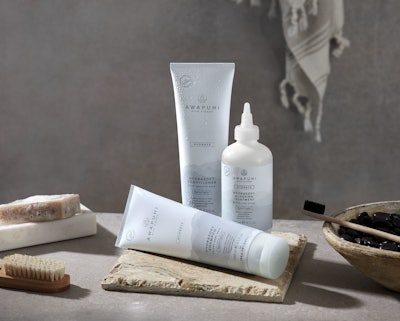 Awapuhi ginger is a native Hawaiian plant packed with 19 amino acids and provides natural nourishment for dry and damaged hair. The plant used in the Paul Mitchell Awapuhi Wild Ginger products are sustainably harvested from the Paul Mitchell Awapuhi Farm, which has been lovingly cared for by the same family for over 40 years. Each plant is carefully harvested using time-honored practices. A portion of each root is replanted for the following year's harvest. Learn more about the Paul Mitchell Awapuhi Wild Ginger Farm here: https://www.paulmitchell.com/awapuhi-wild-ginger    
The Awapuhi Wild Ginger HydraSoft Collection is available now. The new packaging is also available now except for select stylers, phasing in late 2023. 
A note from John Paul Mitchell Systems: It has been devastating to watch the impact the recent wildfires have had on Hawaii. John Paul Mitchell Systems has deep roots and big love for the islands. Hawaii is the company's heart and second home, where co-founders Paul Mitchell and John Paul Dejoria established the Paul Mitchell Awapuhi Farm in 1983. JPMS has donated to the Maui Food Bank, Baby2Baby, and Greater Good Charities to help those who have been affected by this tragedy.