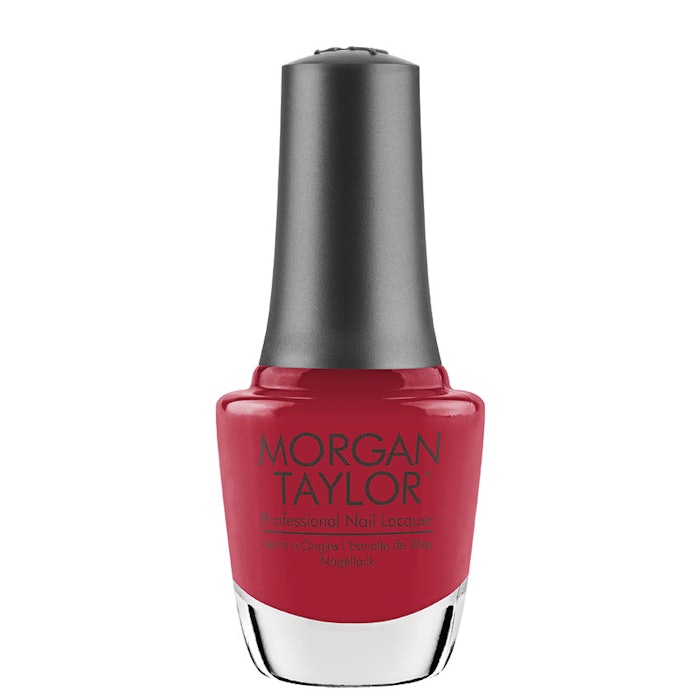 Whether you're looking for gifts for friends, coworkers or clients, the gift of nailcare products are always a win. Here, Morgan Haile and Taylor Daniel, the creative duo behind the eponymous lacquer line, share their favorite products perfect for the holidays. Wrap them all up in one beautiful bow or gift one each day for a fun take on the 12 Days of Christmas.
1. Stilettos in the Snow
Start the gift-giving with a classic bright red cream polish to kick of the holiday festivities.
2. Remedy
A powerful combination of antioxidant grapeseed, vitamin E, sunflower and safflower oils keep cuticles moisturized even in the driest months.
3. Fa-La-Love That Color!
Try a sophisticated take on traditional holiday green with this deep, moody charcoal forest hue.
4. React Max Optical Brightener
This two-in-one strengthener and extended-wear base coat protects nails, keeping them flexible without breaking, while adding optical brighteners for a luminous finish.
5. Strip Ease
Perfect for polish changes, even when wearing dark hues and glitters, use for quick and easy removal while leaving the skin around the nails protected.
6. Bare and Toasty
This tan cream is ideal for a simple, understated look—and the perfect base for piling on some holiday sparkle!
7. Midnight Sleighride
This dusty navy cream is a beautiful blue to pair with snowflakes or dreidels, and is equally stunning just on its own.
8. CurX
Keep germs at bay with this hand sanitizer that boasts FDA-approved benzalkonium chloride, rather than alcohol, so it doesn't burn on open wounds or dry out the skin.
9. It's a Wonderful Mauve & Don't Snow-Flake on Me
The lilac lavender cream is lovely coupled with the light purple metallic lacquer, speckled with chunky glitter, turning any manicure into a frosty wonderland.
10. Accelerate
Polish and go with this fast-drying formulation that will leave lacquer dry to the touch in less than eight minutes flat!
11. Daily Elixir
Keep nails looking their best with this daily treatment, utilizing keratin peptides to correct breaks, splits and peeling nails by bonding with the damaged keratin in the nail for instant repair and protection.
12. California Gold & The Shake Up
Inspired by snow globes, these gold and silver overlays simply need to be shaken up to reveal a swirl of glitter that adds magic to any holiday set.