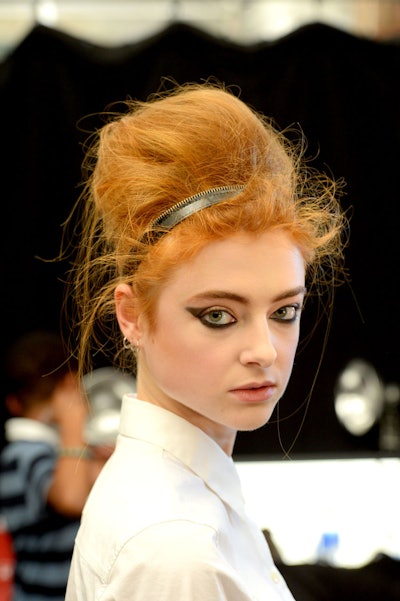 Art Noveau and Cubism collide backstage at Carmen Marc Valvo, delivering a look of elegant beauty with touches of gold and geometric accents. MAC Makeup Lead Romero Jennings brings the gold element in with a striking gilded crosshatch design that overlays a dramatic smoky eye. "Carmen's woman is elegant but Carmen still likes [her beauty] to be a little interesting," says Jennings. When dreaming up ways to incorporate fantastical yet elegant makeup, Jennings looked to recently passed music icon David Bowie. "I think [his] death and people mourning his loss is bringing back this creative and artistic way of doing makeup, including myself!" he exclaims.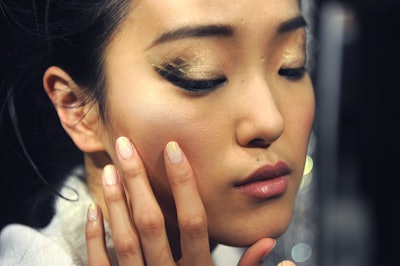 The look is made up of traditional black lined eyes (MAC Kohl Power Eye Pencil in Feline), a defined brow, highlighter and a neutral pink lip. Jennings points out that the eyeliner application is key. "It's black underneath and winged up, and smoked-out with a brown shadow (MAC Eye Shadow in Brun) on the top." With a mixture of gold pigments, he then paints a high-gloss gold crisscross pattern on the lid using MAC 210 Brush Precise Eyeliner Brush. "It gives [the look] a Bowie vibe, and it's more creative then regular makeup," he says.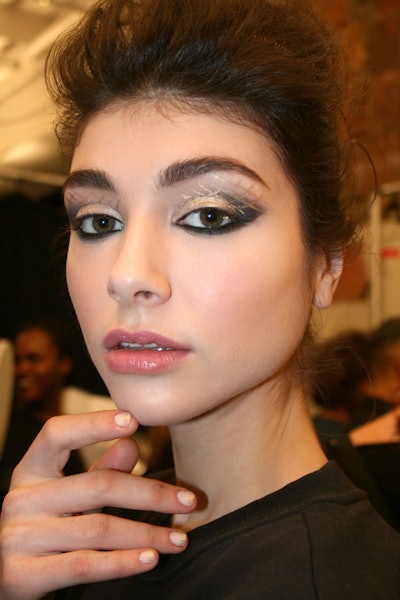 KISS Products Lead Manicurist Gina Edwards decks nails in a gold glitter fade to complement the metallics and gold lame in the collection. Edwards files the nails into a square shape and applies two coats of KISS Gel Strong Polish in Vitamin. Using the flat brush from the KISS Salon Secrets Nail Art Tool Kit, she lightly paints Nail Artist Paint in Gold, downward from the tip of the nail to the center to create a fade of glitter. "This glitter fade effect adds some 'sparkle' to an otherwise classic manicure," says Edwards.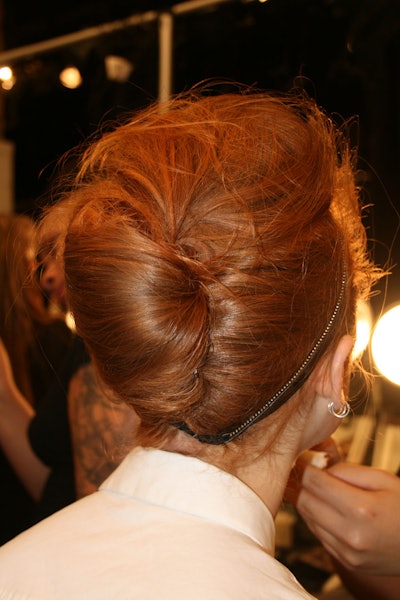 For the hair, L'Oréal Professionnel Lead Artist Ted Gibson modernizes the classic French twist. "I didn't want to make the hair old-fashion, but I wanted something elegant and chic, and I wanted it to have a modern edge to it," says Gibson. "We did this amazing French twist, just like Audrey Hepburn wears in Breakfast at Tiffany's, but we messed it up in the front, which gives it a little sex appeal and makes it more current and a lot more youthful."
Gibson first preps hair with L'Oréal Professionnel Densite Thickening Primer and blow-dries hair completely smooth minus a parting. He then curls the hair with 1.5-inch curling iron, making sure the curls twirl away from the face. After sectioning hair into three parts, he backcombs one section for fuzzed height and a solid foundation, lightly spraying it with L'Oréal Professionnel Extreme Lacquer Hairspray. Gibson gathers the remaining sections into the French twist and, once secured, picks and preens the look for a tousled effect. The final addition of a black and gold zipper headband lends a sweet toughness to the updo.
"This is a great style to take hair to another level. It's an alternative to a basic ponytail. I suggest adding a headband to make it super cool and fresh. In fact, what you're going to see for Fall 2016 is a lot of hair accessories and a lot of hair," Gibson predicts.
Images: Diane Bondareff for KISS; Kristyna Kane; courtesy of L'Oréal Professionnel