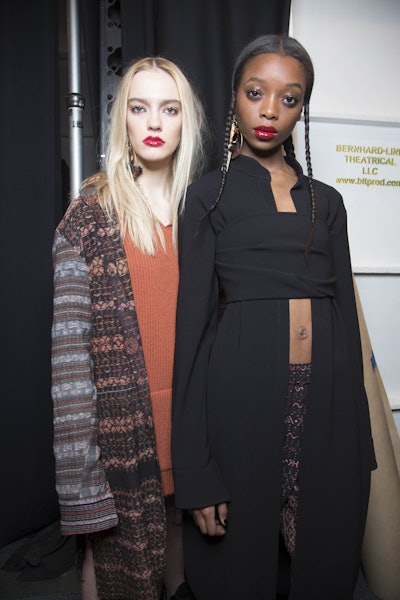 It wouldn't be New York Fashion Week without the quixotic stories that inspire the artists' beauty looks backstage at the runway shows. The beauty arbiters behind the Baja East look don't disappoint with their tales of partying Club Kids—a much tapped-upon source of inspiration when the beauty has a bit of a wild side. "The girls just left a club in Berlin and now they're headed to the Amazon to find a clearing and a rain forest to continue the party," explains John Master's Organics Lead Stylist James Pecis. "It's a group of really, really fun kids. They're all a little bit different with a different look."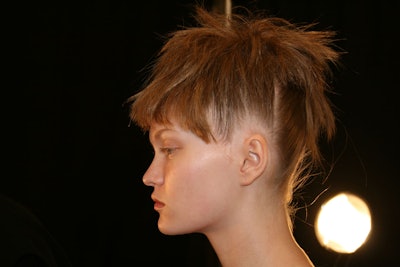 What does Berlin-meets-the-Amazon mean for strands? Faux-hawks and funky braid looks of course! Which model gets what is based on the girl's character, hair type, hair texture and facial features, explains Pecis. For the four-part braid, Pecis parts the hair down the middle, covering the hair roots to end with John Masters Organics Volumizing Foam, before dividing the hair into four sections. Pulling the hair tightly down, he braids each section and finishes the look with John Masters Organics Hair Spray.
Pecis builds his faux-hawk using hair toppers that are first prepped with John Masters Organics Sea Mist Salt Spray with Lavender for a little bit of grit. Before adding the topper, Pecis pulls the model's natural hair into a tight high ponytail, then crafts three braids and secures them vertically along the top of the head. He finally secures the topper around the braid and works in John Masters Organics Sculpting Clay for a messy spiked texture.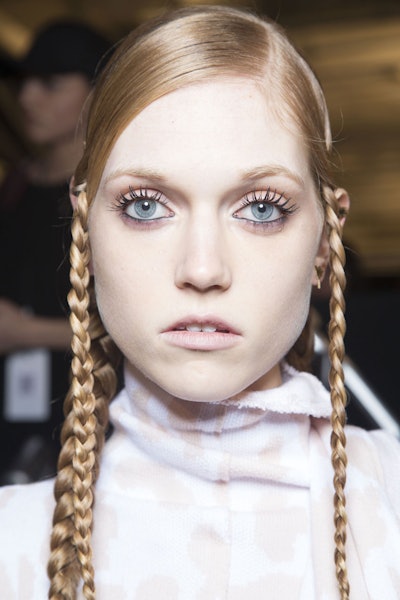 The story for makeup remains much the same as the hair, though after the girls leave the Berlin club, "they need to glam up again for a rave in the jungle," says Maybelline Lead Artist Yadim. Re-upping on the glamour translates to massively clumped lashes (a fall 2016 trend!) using Maybelline The Colossal Spider Lash Mascara in Glam Black (launching May 2016) that Yadim is pairing with either a '90s-style nude lip using Color Sensation Lip Liner in Nude and Color Sensational The Loaded Bolds Lipstick in Nude Thrill or a bright cherry pucker using Color Sensation Lip Liner in Red and Color Sensational The Loaded Bolds Lipstick in Dynamite Red. The lips are finished with a thick coat of Lip Studio Shine Shot Lip Gloss in glassy Topcoat for a wet affect (all available June 2016). And just because, Yadim sprinkles a few freckles across cheeks to lend his Club Kids a more youthful appearance. (They have been up all night partying, after all, and are in for a very long trek.)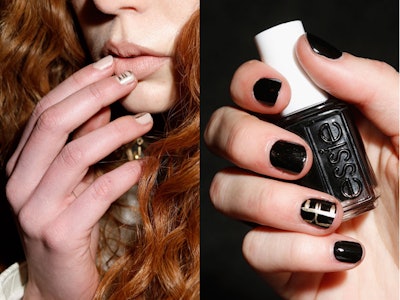 For the nails, Essie Lead Manicurist Rita Remark crafts a monogram nail design honoring the Baja East brand's new "BE" logo. "I saw the new logo and thought, 'That's a graphic element and we can completely put that on a nail,'" says Remark. She chooses either Essie Licorice, Blanc or Sand Tropez for each girl, and then, using a stripping brush dipped in Good As Gold, slashes thin vertical and horizontal lines to create the "B" and "E" side-by-side on one hand. A single "B" or "E" is also applied on the other hand—just to break up the look a bit.