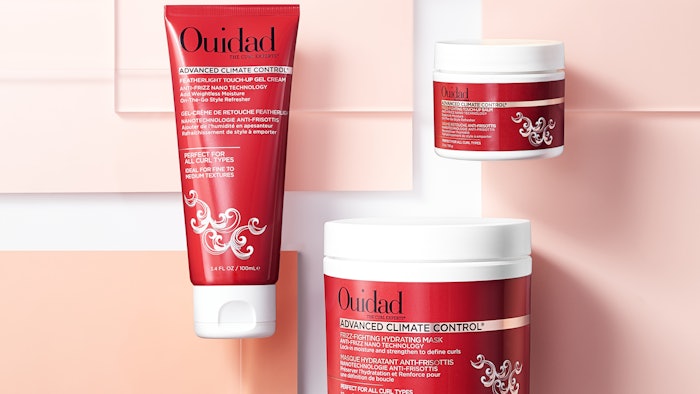 Courtesy of Ouidad
Ouidad first introduced its Advanced Climate Control line in 2017 to deliver frizz protection for all curl types.
The three new products will round out the existing collection, which currently includes the Advanced Climate Control Defrizzing Shampoo, Defrizzing Conditioner, Heat & Humidity Gel (Original + Stronger Hold), Detangling Heat Spray, Restore + Revive Bi-Phase and Featherlight Styling Cream.
Following the overwhelming success of its original line, Ouidad has launched three new products in the Advanced Climate Control segment: Frizz-Fighting Hydrating Mask, Featherlight Touch-Up Gel Cream and Frizz-Fighting Touch-Up Balm.
"Frizz continues to be a top concern for all curl types, and the struggle to fight the effects of rain, humidity, environmental stressors, and day-three flyaways is real," says Marina Binichis, global executive vice president of marketing and innovation at Beauty by Imagination. "Our Advanced Climate Control collection [was a leader in] frizz protection, and now we are expanding it with new targeted touch-up solutions, plus a deep treatment—all of which include our award-winning Anti-Frizz Nano Technology." 
Product breakdown: