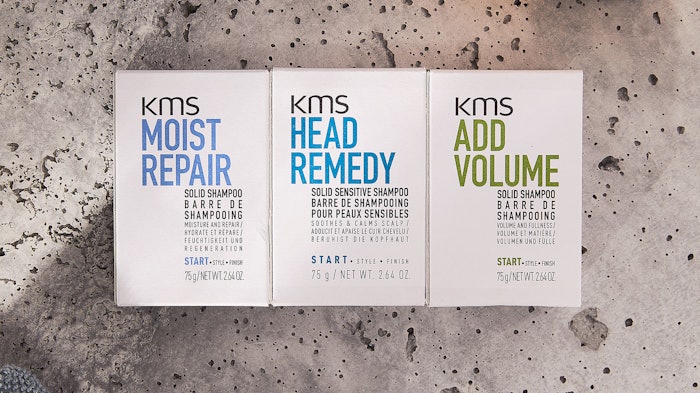 KMS has unveiled a line of professional Solid Shampoo Bars. (May 2021)
The KMS Solid Shampoo collection features three solid bars that are formulated with naturally derived ingredients.
Benefits of KMS Solid Shampoo Bars:
Deliver the same professional-level performance as KMS liquid shampoos
Reduce plastic and packing materials
The KMS Solid Shampoo Collection includes:
KMS MOISTREPAIR Solid Shampoo Formulated for normal to dry hair, this bar replenishes moisture and helps to stave off damage. Contains moisturizing aloe vera and amino acids.
KMS ADDVOLUME Solid Shampoo

Formulated for fine hair, this bar provides body and fullness. Infused with nourishing eucalyptus extract.

KMS HEADREMEDY Solid Sensitive Shampoo

Fragrance-free and formulated for all hair types, this bar is an ultra-mild hair and body wash, perfect for sensitive scalps. Infused with soothing rosemary and chamomile extracts.