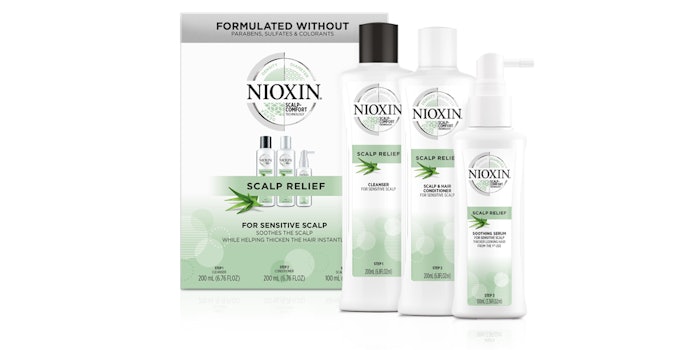 Salon professionals can help clients soothe an irritated scalp and thicken hair with NIOXIN Scalp Relief System Kit.
The three-part system consists of Cleanser Shampoo, Scalp & Hair Conditioner and Soothing Serum, which are clinically proven to strengthen the natural scalp barrier. Ingredients include aloe vera to soothe the scalp, Soothex™ to reduce stinging and irritancy, glycerin to keep the scalp hydrated and niacinamide to thicken the hair.
How to use
1. Apply the shampoo to wet hair and scalp. Lather the product for one minute and rinse thoroughly.
2. After cleansing, distribute the conditioners onto the scalp and throughout the hair. Leave the product on for one to three minutes before rinsing.
3. The serum can be applied to the scalp and left on without rinsing.