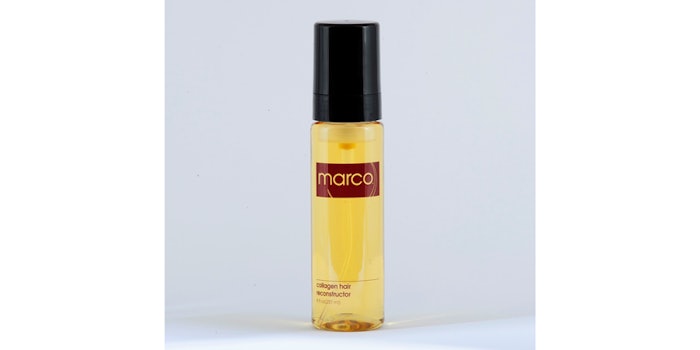 Los Angeles-based salon owner and educator Marco Pelusi has released a new product: Marco Collagen Hair Reconstructor.   
This treatment helps to revitalize and restore damaged hair, making it appear healthier and stronger in only a few minutes.
Other Marco Collagen Hair Reconstructor attributes include: 
Natural citric acid balances hair pH and serves as an antioxidant to prevent premature color fade
Pure silk collagen-based
Easy-to-use, luxurious foam form
Natural coconut-based ingredients help repair and condition
Helps volumize and add body to fine hair
Helps thicken hair that is thinning
How to use the Marco Collagen Hair Reconstructor:
Remove excess water following a shampoo

Apply a few pumps of the foam and evenly distribute throughout the hair
Immediately apply a daily conditioner on top of the foam, and rinse out after three to five minutes.
*This can be a daily routine, applied after each shampoo.