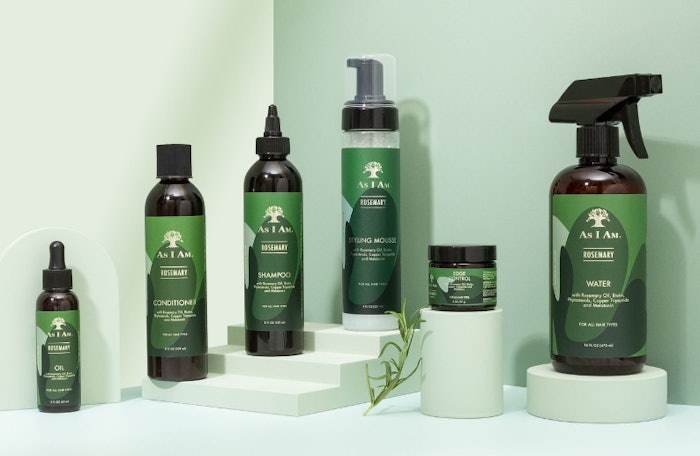 Courtesy of As I Am
This collection is the outcome of extensive research and development, delivering top results for promoting strong, moisturized and healthy hair. 
But how is this Rosemary Collection different from other rosemary collections on the market? It is essentially skincare for your hair. Our unique formula contains standout ingredients that make our system quite special. Along with Rosemary and Biotin, (which has already been studied to aid in hair growth) we have also included Melatonin, Copper Tripeptide and Ceramides.
Melatonin is typically used as an over the counter sleep aid, but did you know there are actual studies of it shown to improve hair thickness and hair density? It has also been found to be a preventative treatment for alopecia and hair loss. It even helps to delay hair aging. 
Copper Tripeptide was added to help strengthen the hair follicles and promote hair growth. Copper Tripeptides are commonly known as a skincare ingredient to help with skin elasticity. In this case it helps with hair elasticity. 
Another ingredient found in most skincare products and that we included in our Rosemary Water Collection are Ceramides. Ceramides are proven to help lock in moisture, build the scalp barrier, maintain scalp moisture, and even strengthen the existing hair. 
Not only did we include these ingredients in our collection, but we found the optimum level of each ingredient to help this system perform the best. There are currently 6 products in the collection (with a 7th on the way):
Rosemary Water
Rosemary Oil
Rosemary Shampoo
Rosemary Conditioner 
Rosemary Mousse 
Rosemary Edge Control
The Rosemary Collection is great for all hair types and textures, fragrance-free and is Vegan and Cruelty Free.