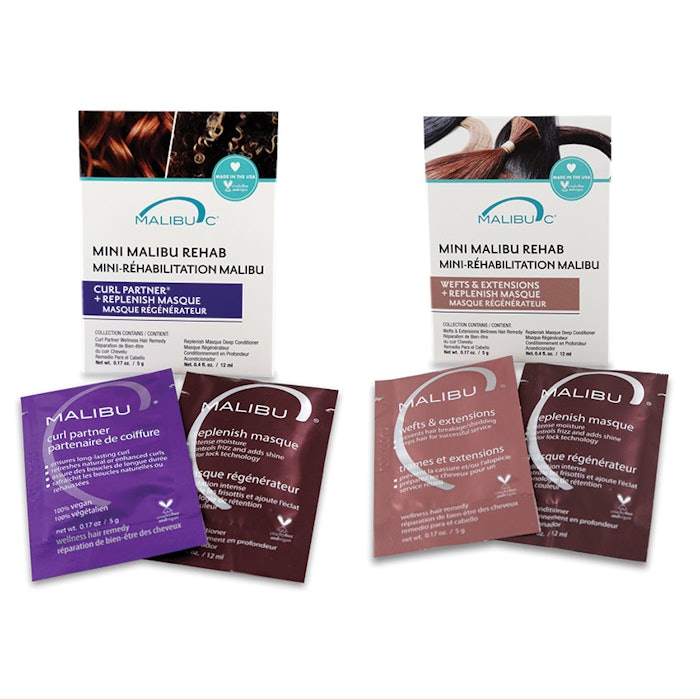 Calling All Curls
Curls are a thing of beauty, so long as stylists know how to properly care for them! Enter a new innovation from Malibu C: Curl Partner Mini Rehab. We asked curly hair experts (and Malibu C devotees!) exactly why this product, as well as others from the nature-inspired brand, are a must for the salon.
ERICA WELCH-BILLINGSLEY (@erica.jo.paints)
Whenever I'm going to be performing a perm service, my first step is always Curl Partner! I love how it preps the hair by removing any "curl blockers" that may be in the way. Using Curl Partner ensures that I'm able to achieve a beautiful and even curl pattern every time. I also love retailing these packets to my naturally curly clients when they express that their curls are lacking; it instantly brings their curls back to life. I always follow up by using Replenish Masque—the smell is amazing and the hydration it gives is phenomenal.
AUBRIE PARTH (@aubrieatsalonwest)
I'm a curly haired girl myself, so I understand the struggle when my curls aren't all I know they can be. When they feel weighed down and not as defined, I reach for my Malibu C Curl Partner to remove the possibility of product buildup and heavy, dulling surface minerals. Immediately, my hair feels lighter and my curls feel unleashed. Then, I restore moisture and wonderful shine with Malibu C Replenish Masque. My final result is a stronger curl pattern, and softer, healthier-looking hair. These products are truly my partners in achieving the best curls possible.
HEATHER HAWKINS (@hahawkins)
As a professional artist for movies, you never know what texture of hair will be sitting in your chair with each production, and as a person with naturally wavy/curly hair myself, I can affirm that Curl Partner and Replenish Masque from Malibu C are amazing products. They will not only give your clients the bounce and strength they crave, but also seem to turn the clock back to more youthful shine and manageability, too!
For more information, log on to malibuc.com and follow the brand @malibucpro.
Extensions' Best Friend
The market for extensions and hairpieces is continuing to grow at breakneck speed! Good thing Malibu C Wefts & Extensions Mini Rehab treatments have arrived to help keep wefts in optimum condition. Here, experts share why Malibu C's latest extension-helping launch, along with the brand's other products, are their mane must-haves.
AMY SPENCER (@amyspencerhair)
My clients truly enjoy the benefits they see when they use Malibu C's vitamin-based remedy packets. Many times, they can see and feel the difference after one use. Another great way to use them is as a mini-detox treatment in the salon. They're great for the times when my clients walk through my door and their hair is looking dull, brassy and lifeless. Applications take me about 15 minutes to do at the shampoo bowl. They visibly brighten strands in a matter of minutes without compromising the integrity of the hair. I use these packets along with Un-Do-Goo to remove product buildup and surface minerals. I prefer to do this before clients' cut or color to ensure a predictable process.
DENISE ROSSOUW (@topsecrethaircessory)
As one of the pioneers of the hairpiece market, I make it a point to only use the most effective products for the hair. I have been recommending Malibu C to my clients for more than a decade. After learning how water can affect extensions and wefts, I've made Malibu C my go-to for my brand, Top Secret Haircessory, to prevent any discoloration issues.
KATHERINE MADDOX (@katherineraehair)
The Wefts & Extensions Mini Rehab sachet is a game changer for all extension specialists. This is the best way to prep the guests' actual hair for a successful install, as well as prepping the extension hair for longevity. I've also been using the Wefts & Extensions sachet as a way of bringing new life to older extension hair by removing mineral and product buildup. Finishing off the extensions with Replenish Masque gives the extensions a shot of moisture and shine, and helps finish off the service; the smell is also amazing!