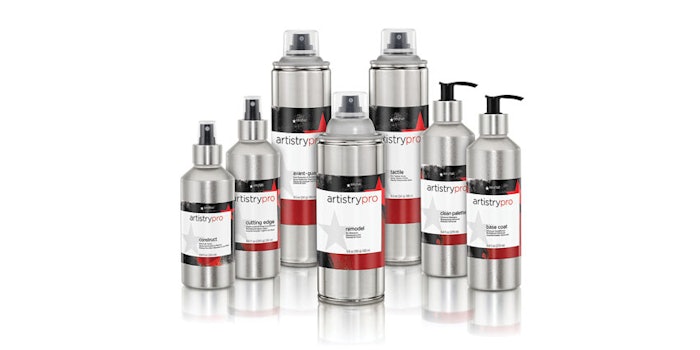 The salon community is resilient. The philosophy that we're stronger together is a cornerstone of the industry, and one of the many attributes that makes it unique. While rebuilding and healing is an uphill process, the pro-beauty community is helping ease the industry's burden by giving back to stylists.
During this national coronavirus pandemic, there are companies making a true impact on the pro community. The Professional Beauty Association (PBA), for instance, created a relief fund for licensed pros in immediate need, offering $500 for bills and survival. SexyHair (@sexyhair) is also giving back, both through its PBA partnership and a salon-specific retailing opportunity with the launch of the artistrypro line. Created for stylists to have the ultimate creative toolbox—and available to consumers exclusively through stylists—this is the brand's first pro-only line.
Beauty Launchpad: What differentiates artistrypro from other lines in the SexyHair brand portfolio?
Stephanie Polansky: Artistrypro is a boutique brand backed by a market leader, SexyHair, to create, design and inspire. It's a complete care and styling system of high-performance products that are infused with amino acids. The system offers the top products every stylist needs behind the chair and caters to all hair types, from straight to extremely curly. This system is offered through professional distribution and can only be purchased through salons from clients. We also made sure to put our new system into environmentally responsible packaging. We consider this our boutique brand that stylists can sell, but with the backing of SexyHair. Stylists will get a line of products only they can retail while receiving the amazing education, marketing and sales support of our brand team.
BL: How long did the line take to develop?
SP: Two years. We were determined to have the right packaging, look, message and most importantly, formulas.
BL: What products comprise the line?
SP: Clean Palette, a universal shampoo; Base Coat, a universal conditioner; Cutting Edge, a lightweight priming conditioner; Construct, a root lift spray; Avant-Guard, a thermal protectant and finishing spray; Tactile, a dry texture spray; and Remodel, a dry shampoo. We also have three new products launching in January!
BL: What are the key ingredients in the products?
SP: Our products are infused with amino acids that penetrate the cortex and sit on the hair's surface to strengthen and condition strands from the inside out.
SexyHair artistrypro products are available now through SalonCentric, saloncentric.com.