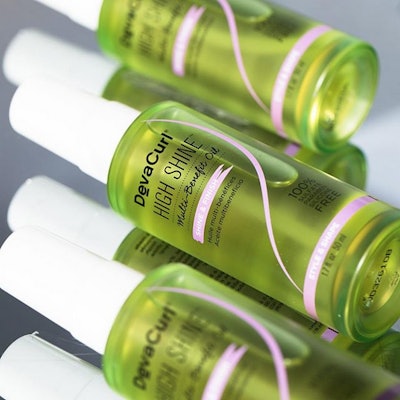 DevaCurl has been the go-to for natural curls for decades, and now they've added an incredible new product to the line.
High Shine is a lightweight, silicone-free oil, formulated with formulated with an exclusive blend of five curl-loving oils: Babassu, Coconut, Pequi, Flaxseed, and Passion Fruit. Together, they provide shine, moisture, and enhance curls with a frizz-free finish that smooths, seals and helps improve the appearance of split ends.
As with all of DevaCurl's products, its ingredients set High Shine apart from the crowd.
DevaCurl CEO Robert Schaeffler said, "While formulating High Shine, our product development team found that over 70% of curly girls already use oils as part of their daily routine which is why we decided to come out with a curl-loving oil without silicones, unlike traditional hair oils."
Babassu oil is an all-natural silicone alternative known to add shine without a heavy residue. It is derived from the kernels of the hard-shelled nuts from the Babassu palm, a tall palm tree native to Brazil. Coconut oil is extracted from the meat of mature coconuts harvested from the coconut palm. It helps to minimize frizz. Pequi oil is made from the Pequi fruit found in Brazil. It is rich in vitamin A and helps to enhance curl definition while minimizing frizz. Flaxseed oil is derived from the seeds of the flax plant and contains omega-3 fatty acids, providing nutrients to curls. and lastly, passion fruit oil is fast absorbing. It smooths hair strands and aids in providing moisture.
It's high-quality and easy to use. It can be applied to clean, wet hair for maximum moisture using the Leave-In Oil Cream (L.O.C.) method. This technique consists of hydrating the hair with leave in conditioner, then sealing in the moisture with an oil. The last step is to apply a cream styler to close the cuticles, help prevent moisture loss, and provide hold. However, it can also be put on dry curls, as the last step of the routine and ultimate finisher to seal in shine. Use to refresh the shine of dull, day two (and beyond!) curls. And if you're having trouble detangling dry curls while giving a DevaCut, try spraying in a bit of High Shine to give the hair slip and detangle with ease!
Learn more about DevaCurl here.
[Images courtesy of DevaCurl]