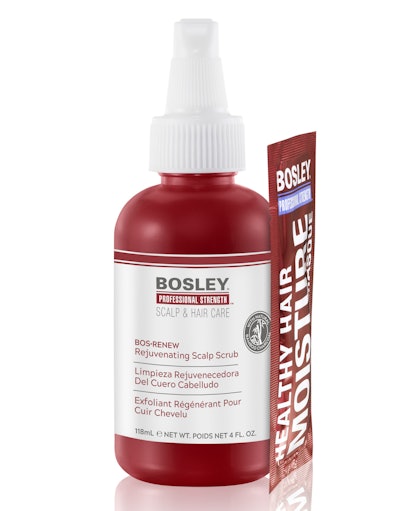 Create the ideal hair-growth environment with the new Bosley Professional Strength Rejuvenating Scalp Scrub.
Everyday factors such as UV rays, pollution and product build up can compromise the vitality of the scalp and contribute to thin-looking, weakened hair. For optimal hair growth, the scalp needs to stay in healthy balance, free of pollutants and follicle-clogging debris.
Rejuvenating Scalp Scrub gently cleanses, moisturizes and balances for optimal scalp health and healthy-looking hair. Purifying Bamboo Charcoal exfoliates and detoxifies with naturally dissolving sugar particles while soothing essential oils and moisturizing botanicals nourish the scalp and hair.
It's easy to use. First, wet hair. Then part hair with fingers to expose scalp. Squeeze the bottle as you run nozzle along exposed scalp areas. Massage into scalp, adding more water as needed to create a lather. Exfoliating particles will naturally dissolve. Rinse thoroughly and apply Bosley Professional Strength Healthy Hair Moisture Masque to strands. Use once a week to maintain a clean healthy scalp. If the hair has not been shampooed for several days, mix Bosley Professional Strength Nourishing Shampoo for an added cleanse.
Features:
Bamboo charcoal: Helps remove compromising debris and purify the scalp and hair
Sunflower seed oil and shea butter: Soothes & moisturizes
Rosemary leaf extract: Rich in iron, calcium, and phytonutrients. Provides youth boosting anti-oxidant protection
Tea tree leaf oil: Soothes dry or itchy feeling scalp
Orange, tangerine and lime oil: High in free radical protection for healthier hair & skin
This product is made for both women and men with all hair types. It's free of synthetic dyes and fragrance as well as being vegan. It's cruelty, gluten, paraben and sulfate free!
[Images and video courtesy of Bosley]