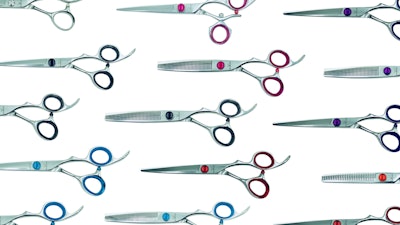 Rock • Paper • Shears introduces a new subscription program that will change the way stylists access and maintain high-performance shears.  Monthly subscriptions begin at just $8/month per shear and are available in four or six-month subscription cycles; depending upon how often subscribers want to receive sharp shears.  All subscriptions include regular maintenance and sharpening, as well as round-trip shipping.
Here's how it works:
Choose shears. Subscribers decide between a 4 or 6-month subscription cycle.
Shears are put to work. Near the end of the subscription cycle, the subscriber chooses which shears she wants next; choosing a familiar style or trying something new!
Swap for sharp shears. Sharp shears are mailed to the subscriber, along with a prepaid envelope to return the dull shears.
Company founder Pat Lazure said, "Stylists can finally stop accumulating shears that they don't use.  Instead, there's now a better way, where stylists only pay for shears that they actually use; while the bothersome task of having their shears sharpened is forever checked off their to-do lists."  
Rock • Paper • Shears strictly offers shears with the highest quality, premium Japanese metal, yet a subscription won't set a stylist back $300-$800.  The Company's Premium shears are crafted from the highest quality Japanese 440C steel, while Elite shears take it up a notch with their coveted, high carbon Japanese VG-10 stainless steel.  "Quality and convenience are the hallmarks of our model and satisfaction is guaranteed.  We give stylists guiltless choice to swap shears before each renewal period, without the guilt that comes with retiring and stockpiling expensive, unused shears," added Lazure. 
[Image courtesy of Rock Paper Shears]