After being in the business for over three decades and revolutionizing the world of haircare with the creation of the ceramic flat irons, it's hard to believe that the CHI Man himself, Dr. Farouk Shami, has not run out of new innovative ideas to push the envelope even further. CHI's latest innovation is no exception to Dr. Shami's long list of advanced and original technology.
While on a business trip in Europe, Dr. Shami and a friend were dining at a restaurant where one can cook their own meals. While the food was impressive he found himself more fascinated by the mechanism being used to heat the food, lava rocks. After doing additional research on his own, Dr. Shami learned that lava rocks were full of useful minerals that serve as an excellent conductor of heat. Thus the idea to combined CHI Ceramic with volcanic lava rock minerals was formed and the industry once again revolutionized with the CHI LAVA 1" Hairstyling Iron.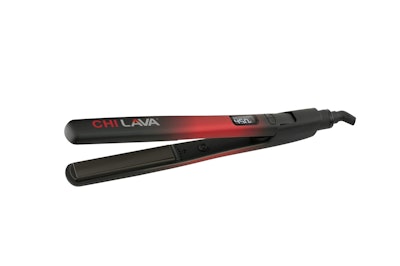 The Benefits of the CHI LAVA 1" Hairstyling Iron:
Lava rock minerals create smooth, sleek looks
Lava as a heat conductor allows styling at lower temperatures than normal hairstyling irons
Causes less heat damage than traditional styling
Effortless glide-ability on unruly and coarse hair textures
Extended Plate Length
Lightweight design
This new iron utilizes the power of CHI Ceramic and infuses it with volcanic lava powder derived from lava rocks. The ceramic allows smooth looks to be created by locking in moisture while leaving hair frizz-free. The lava minerals in the iron produce ions, which allow for visible results such as reflective shine and a smooth finish, and provides extreme durability while acting as a superior heat conductor. Pairing CHI Ceramic with volcanic lava powders is a match made in haircare heaven. As both of these components are already smooth combining them together creates an even smoother plate, it feels as if the iron is floating through the hair with just a single pass.
The CHI LAVA 1" Hairstyling Iron is able to provide effortless styles without requiring the typical high-heat settings due to the heat within the plates lasting longer. The CHI LAVA Iron is able to contain the heat and distribute it evenly throughout the plates allowing for salon quality styles to be created with never before seen ease.
[Image and video courtesy of CHI Haircare]