The holiday season has so many different traditions and excuses to spend time with your favorite people. So to help you focus on the fun and not stress over the details, Launchpad has put together a list of our favorite products perfect for gifting.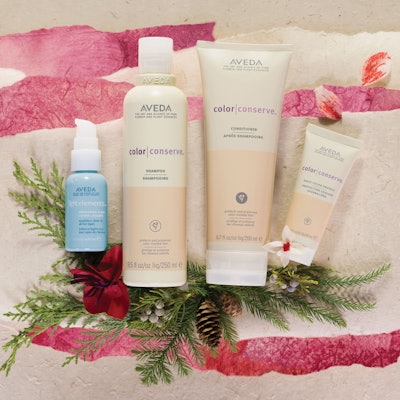 Aveda isn't forgetting anybody this year. The set pictured above is for color-treated hair, but other gift sets include lip glazes, cleansing oils, body polish, candles and more!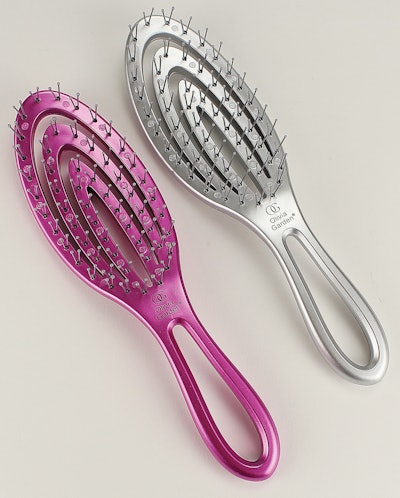 Olivia Garden Compact Brushes:
The Sweet & Shimmer Holiday Compact Styling Brushes from Olivia Garden are available in a festive and holiday-themed silver, or a chic and elegant rose gold. This compact brush is ideal for the friend who's constantly on the go. The Sweet & Shimmer Holiday Compact Styling Brush is perfect for all hair types due to its scalp-hugging curved shape that eliminates strained hair, and the sleek design makes it perfect to throw in a purse, gym bag, or pocket.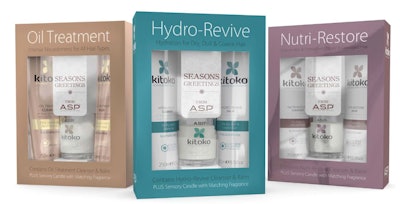 Kitoko Gift Packs:
Kitoko Gift Packs come in three types: Oil Treatment, Hydro-Revive and Nutri-Restore. Each variation comes with a balm, cleanser and candle! Go to affinage.com for more info.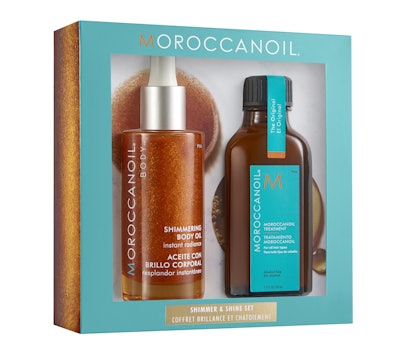 Moroccanoil Shimmer & Shine Set:
Moroccanoil has a gift set for everyone, whether or not your significant other already uses the brand or just wants to test it out. We recommend the Hair & Body Minis set for somebody searching for a new product, and the Shimmer & Shine set for dedicated Moroccanoil fans.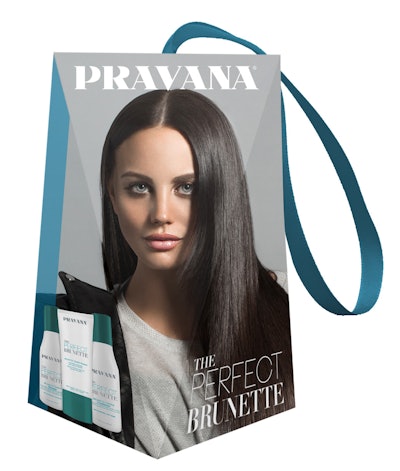 PRAVANA Color Kit:
Available this winter are two ornament-inspired travel trios featuring each of our bestselling toning lines: the perfect blonde and the perfect brunette! Each set includes a sulfate-free shampoo, conditioner and masque, ideal for gifting to clients, retailing in the salon or even as a treat for yourself or your loved ones. Who wouldn't enjoy an adorable stocking stuffer that's personalized and immediately tones hair, ridding blondes of those unwanted yellow tones and brunettes of the red/orange? Available at SalonCentric, State | RDA Pro Mart, Four Star Beauty, East Coast Salon Services and A&A Beauty Supply for a limited time only.
This Air Dry Kit is perfect for that person in your life who doesn't have the time to do their hair every day, but still enjoys looking good. The completely cruetly-free brand is including a limited-edition Hair Hoodie, which helps protect hair from breakage.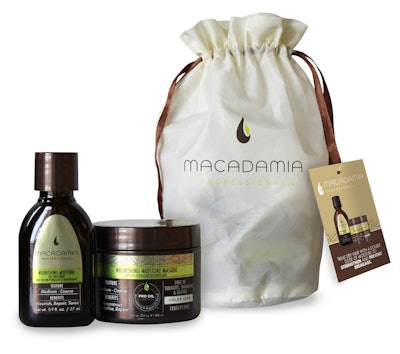 Macadamia Professional Nourishing Moisture Stocking Stuffer:
Treat dry winter hair with a double dose of moisture. Specially priced duos of a Macadamia Professional Moisture Masque and Nourishing Moisture Oil Treatment strengthen and repair hair to prevent breakage.
Chi Air Classic Tourmaline Ceramic 1" Hairstyling Iron utilizes the latest innovative technology combining Tourmaline Ceramic with even heat distribution, producing an exceptionally high amount of negative ions and Far Infrared which reduce static electricity for that perfect style. Hair is left smooth and silky with an unparalleled shine. This collection comes in this stunning gold finish—a perfect match for the holiday decor.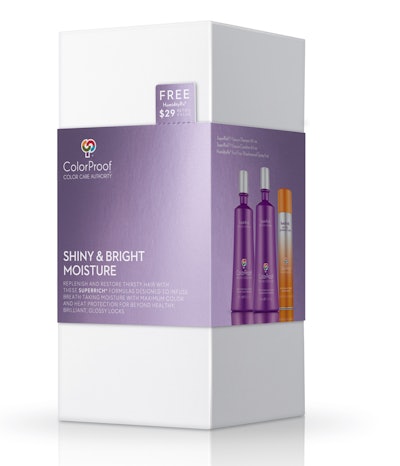 ColorProof Shiny & Bright CrazySmooth Holiday Kit
ColorProof's CrazySmooth system features our proprietary blend of rare essential oils including Camellia and Abyssinian, as well as seaweed and shea butter, to instantly eliminate unruly frizz, repair and infuse with extreme smoothness, shine and super healthy youthful condition. They also have many other holiday kits for different hair needs!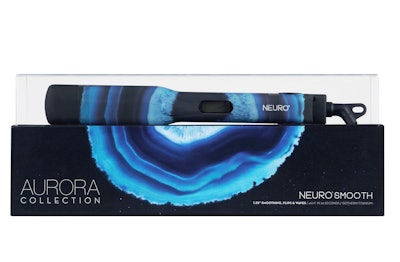 Paul Mitchell Aurora Neuro Smooth:
For your friend who loves owning the latest and greatest gadgets: the Neuro Aurora Holiday Collection by Paul Mitchell. These hot tools use advanced technology and professional features to create fast results, and the limited edition design adds an extra special touch.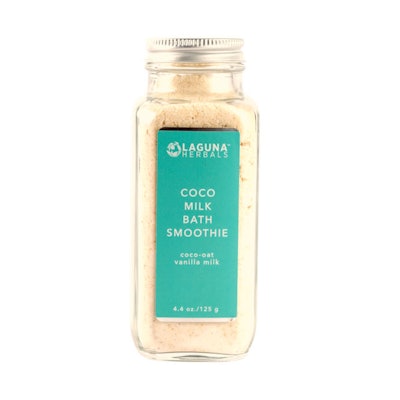 Laguna Herbals: Holiday Coco Milk Bath and Body Kit:
Give the gift of  bath and body self care this holiday season. Soak in the ultimate calming, softening and cleansing coco-milk bath smoothie. The natural scent of coconut milk coupled with natural vanilla and the healing power of colloidal oats will give you an unmatched bath experience. Truly gentle ingredients that will leave your skin feeling hydrated and calm. Then continue post-bath with the rest of the kit!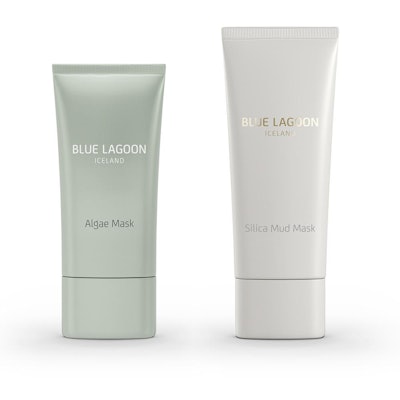 Blue Lagoon Algae and Silica Mask Duo:
This Duo is the ideal combo for radiant, youthful skin. The Silica Mud Mask – composed of the Blue Lagoon's iconic white wonder – deep-cleanses and strengthens your skin, reduces the visibility of pores, and leaves your skin fresh and clear. The Algae Mask – composed of unique Blue Lagoon patented algae – nourishes your skin from within, minimizing the appearance of fine lines and wrinkles, and providing an immediate lift and youthful glow.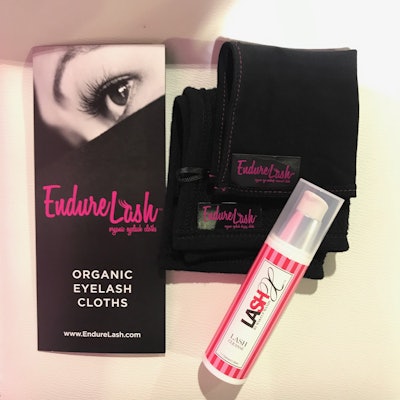 EndureLash x LashX Cleansing Kit
With EndureLash's cleansing cloth & drying cloth and LAshX Lash Cleanser, this will be the go-to lash maintenance cleansing kit. It's a perfect makeup removal system for eyelash extension wearers looking extend the time between salon visits or those with natural lashes looking to clean their lashes so they stay softer and healthier.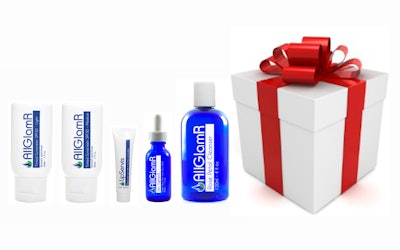 AllGlamR The AllGlamR Gift Box:
Luxuriously boxed and ribboned, they include: AllGlamR Rose Petal Cleanser, AllGlamR SkinTightenR, AllGlamR Tinted Sunscreen (in Light and Medium shades), and AllGlamR multi-purpose LipServis, a celebrity favorite.
This special collection offers the gift of healthy, glowing, flawless skin at every age, and is made with ingredients including rosehip oil, seaweed extract, botanicals such as Aloe, Lavender, Calendula, Hops, Lemon, Horsetail as well as with Hyaluronic Acid, Vitamins A, C, E, and F.
The AllGlamR Beauty Box does it all.  The collection hydrates, boosts collagen, regenerates cells, reduces fine lines, and increases elasticity – working in all climates from dry to humid. It also includes tinted sunscreen protection to leave skin glowing without make-up.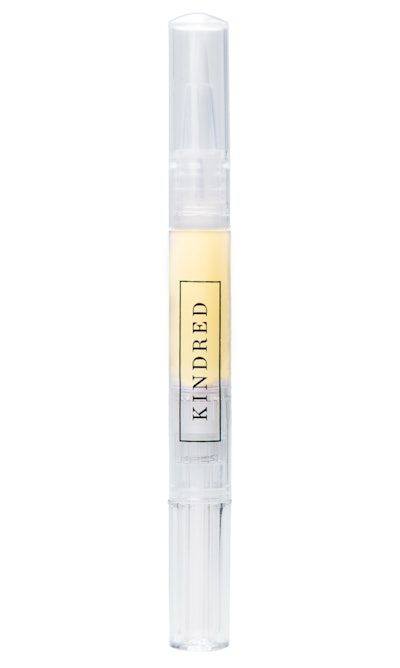 Kindred Skincare Co.'s Under Eye Treatment:
The Under Eye Treatment is a slim compact cosmetic pen that replenishes any lost moisture and erases unwanted puffiness under the eyes. Formulated with all natural plant-based oils and botanicals, this treatment features a key anti-inflammatory ingredient, coffee butter, to awaken the skin without the harsh caffeine. The Under Eye Treatment is rperfect for all the  to prep you for anything the work day throws your way, leaving you feeling like a true boss.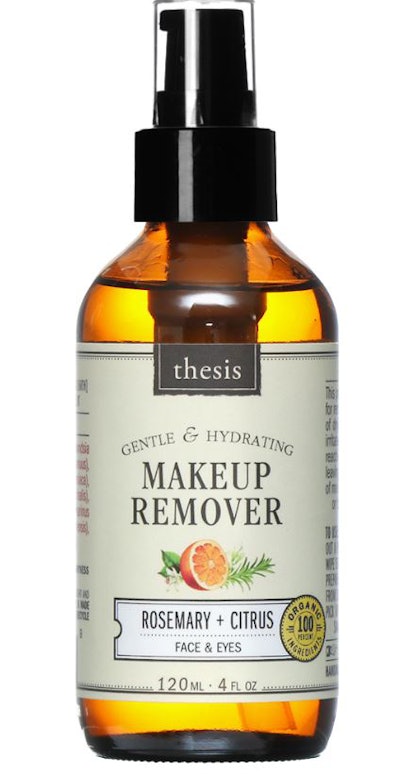 Thesis Rosemary Citrus Makeup Remover: 
The season is full of excuses to get dolled up and go out. This ultimate Makeup Remover is as effective as it is pure.  It will get all the product off your face while keeping skin soft and glowing for the next holiday party! It dissolves makeup and dirt with the power of certified organic oils and contains absolutely nothing synthetic, irritating or harmful for your skin.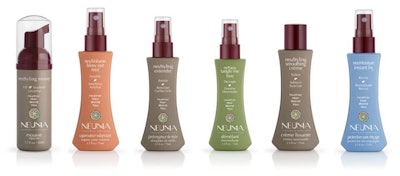 NEUMA's travel size styling collection makes the perfect stocking stuffer. With anti-static, anti-humectant and water-soluble properties, each product provides heat protection with memory hold. A variety of styling tools to help you prep, support, refresh or finish any style.  Collection includes neuStyling smoothing crème, neuStyling extender, neuStying mousse, neuVolume blow-out mist, reNeu tangle me free and neuMoisture instant fix.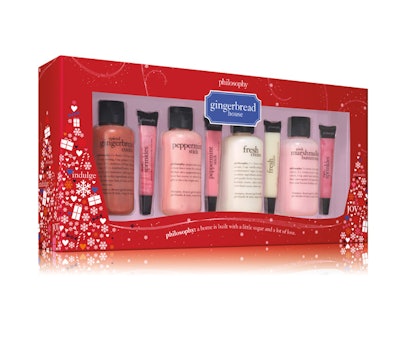 Philosophy Gingerbread House Bath & Body Set:
Designed to delight the senses, this delectable gift set is overflowing with the delicious and comforting scents of spiced gingerbread, sugar sprinkles, peppermint stick and fresh cream. Indulge yourself or treat someone you love with this stunning gift set that includes spiced gingerbread cookie shampoo, shower gel & bubble bath, sugar sprinkles lip shine, peppermint stick shampoo, shower gel & bubble bath, peppermint stick lip shine, fresh cream shampoo, shower gel & bubble bath, fresh cream lip shine, pink marshmallow buttercream shampoo, shower gel & bubble bath, and pink marshmallow buttercream lip shine. Check out Philosophy's other amazing holiday gift sets at www.philosophy.com.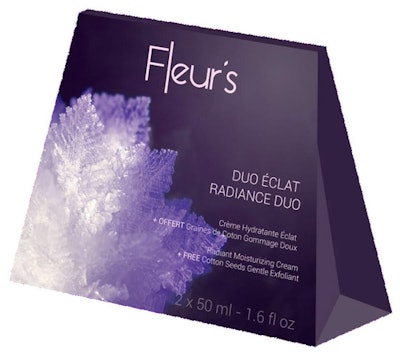 Fleur's Radiance Duo Gift Set:
Give the gift of gorgeous skin this holiday season! This stunning duo features Fleur's Radiant Moisturizing Cream, which moisturizes and energizes the skin, along with Cotton Seeds Gentle Exfoliant, which restores skin to natural softness and radiance. To check out the rest of the line, visit www.fleur-s.com/en.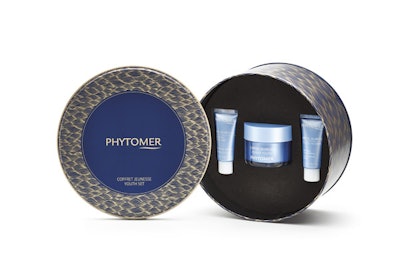 This tempting trio includes a full-size Expert Youth Wrinkle Correction Cream, travel-size Vegetable Exfoliant and Youth River Age-Defense Mask. To purchase other products from the line, visit www.phytomerusa.com.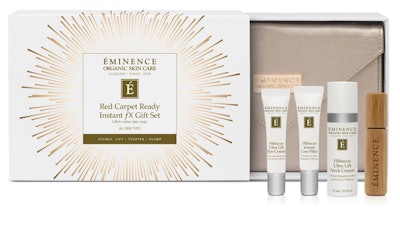 Éminence Organic Skin Care Red Carpet Ready Instant fX Gift Set:
With all of those holiday parties and fun festivities, everyone wants to look their best this season. This limited-edition gift set features four travel-sized plumping and smoothing products to instantly transform and glamorize skin in just two minutes. Accompanying the products is a complimentary chic, rose gold metallic, vegan leather cluth—the perfect accessory for any party or event.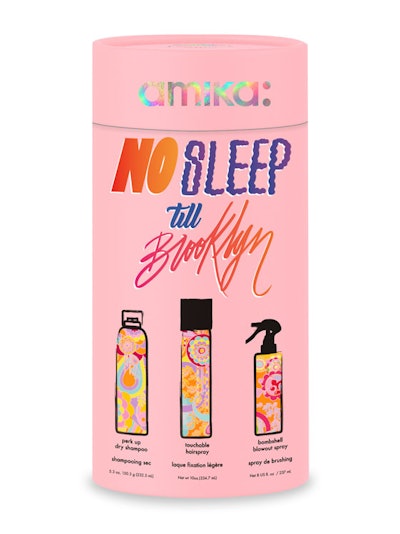 Amika No Sleep Till Brooklyn Holiday Gift Set:
For long-lasting volume, this jaw-dropping gift set comes with Perk Up Shampoo, Bombshell Blowout Spray and Touchable Hairspray. Perfect hair is just a few sprays away! Check out Amika's other adorable holiday tools and gift sets at saloncentric.com.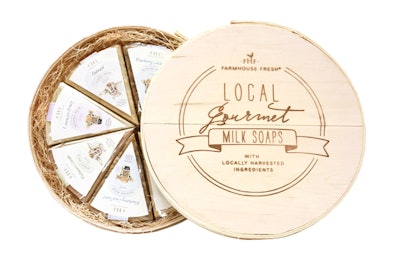 Farmhouse Fresh Local Gourmet Milk Soaps Gift Set:
Bath and body connoisseurs will love this special holiday gift set that features artisanal, fine cheese-inspired, hand-poured whole milk and goats milk soaps. The collection features eight soaps in four delicious varieties: Blueberry Chia Seed Whole Milk Soap, Pistachio Cream Goats Milk Soap, Honey Lavender Whole Milk Soap, and Oatmeal Goats Milk Soap. The wedges come in a hand-crafted, Wisconsin-made, Aspen wood cheese bod with lid.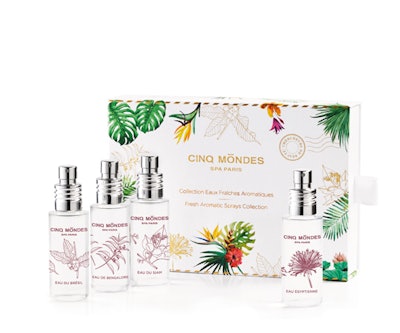 Cinq Mondes Fresh Aromatic Sprays Collection:
Freshen things up with this unique collection of fragrances from around the world. The elegant gift box contains four fresh, travel-size aromatic sprays. Comes with 25 ml of Eau Egyptienne, Eau de Bangalore, Eau du Siam and Eau du Bresil.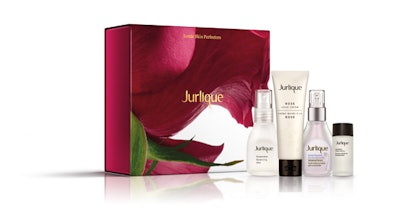 Jurlique Iconic Skin Perfectors:
Handpicked by the Jurlique team, this beautiful gift set features some of the brand's most iconic products. The gorgeous box includes the Rosewater Balancing Mist, Herbal Recovery Advanced Serum, Actvating Water Essence and Rose Hand Cream.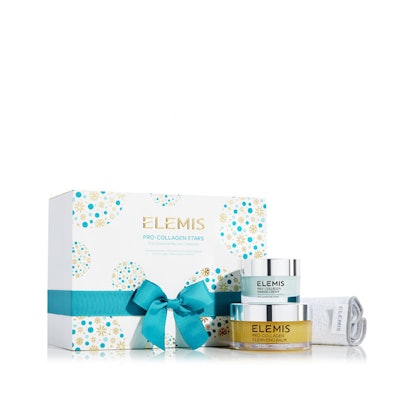 Harness the power of the sea for an intensely cleansed and thoroughly moisturized complexion. This gift set includes a Pro-Collagen Cleansing Balm, Pro-Collagen Marine Cream and a luxury cleansing cloth.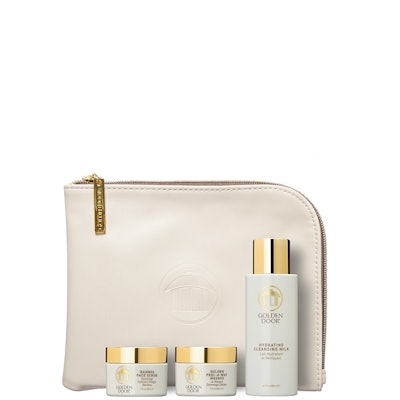 Give the gift of the iconic Golden Door resort, which has made their legendary products accessable. This try-me kit contains a Bamboo Face Scrub, Golden Peel-A-Way Masque and Hydrating Cleansing Milk, and they all come packaged in a sleek makeup bag.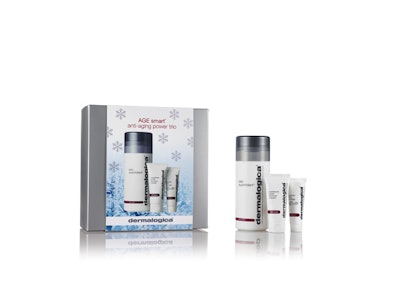 Dermalogica AGE Smart Anti-Aging Power Trio:
Resurface, restore and protecting skin from environmental triggers that accelerate skin aging. This gift set contains the Daily Superfoliat, Multivitamin Power Recovery Masqye, and Dynamic Skin Recover, which aid in collagen synthesis, increase elasticity and restore suppleness, resulting in younger-looking, glowing skin.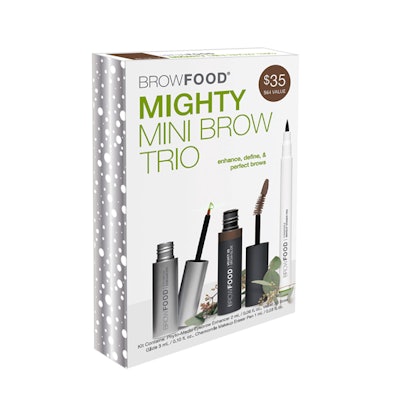 BrowFood Mighty Mini Brow Trio:
This triple-threat holiday kit is a must-have for brow lovers! The set comes with Velvet 3D Brow Glide, Chamomile Makeup Eraser Pen, and Phyto-Medic, Eyebrow Enhancer. Achieve bold and multi-dimensional brows with this revolutionary gift set, which makes it fast and effortless to correct eyeliner mistakes and perfect brow shape.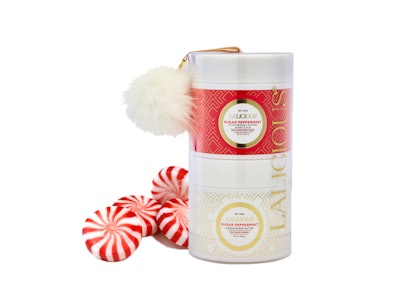 LALICIOUS Sugar Peppermint Sparkle & Shine Set:
This limited-edition holiday gift set features the Sugar Peppermint Whipped Sugar Scrub and Hydrating Body Butter duo, both of which contain natural peppermint oil to stimulate circulation and improve the appearance of skin tone for bright, glowing skin. The products come in a clear tube with a detachable snowball puff and make the perfect gift for others—or yourself.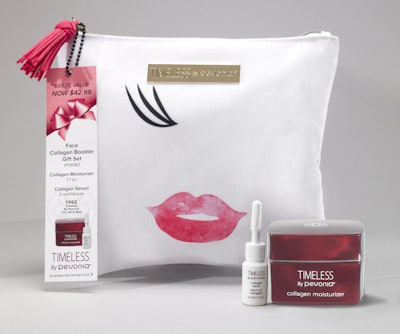 Timeless By Pevonia delivers professional solutions to achieve ageless beauty at a great budget-friendly value. This year, give your clients the greatest gift of all- peace of mind knowing the perfect holiday gifts await them! With the Timeless By Pevonia 2017 Holiday Collection, it has never been easier to offer the latest and greatest ready-to-gift holiday skin care items on your store shelves. Your clients will love the all-natural, botanical product, and they'll love the value. Order your collections today!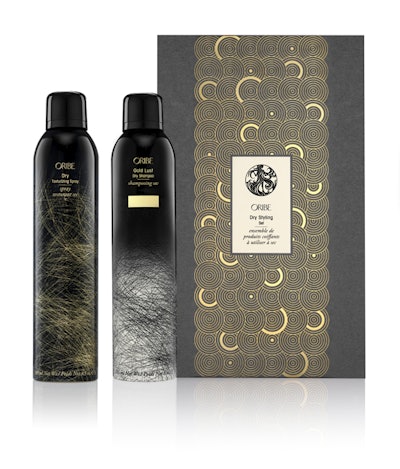 This holiday set is as glam as it comes this season! Gift two of the brand's cult favorites: Dry Texturizing Spray for volume and Gold Lust Dry Shampoo to extend the life of blowouts. The rest of their holiday lineup includes the Travel Essentials Set, Gold Lust Collection, and the Côte d' Azur Body Collection.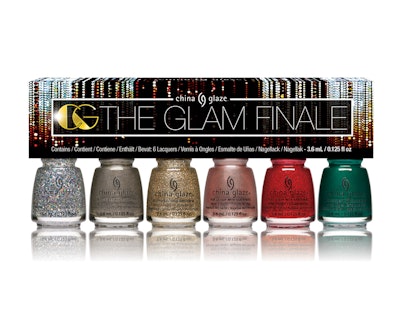 Break out your sequins and rock the night away this holiday season with China Glaze The Glam Finale collection. Featuring 12 new party-perfect glamorous glitters, chic crèmes and merry metallic, plus three Pre-Glued Designer Nail Tips and three holiday gift sets, this holiday assortment will have your manicure dazzling long after the last piece of confetti drops.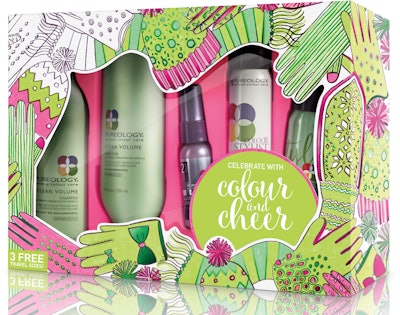 Pureology Holiday Gift Sets:
This set provides airy volume for fine colour-treated hair. It includes Clean Volume Shampoo, Clean Volume Condition , Clean Volume Weightless Mousse, Colour Fanatic Multi-Tasking Beautifier and Colour Stylist Supreme Control maximum hold zero-dulling hairspray.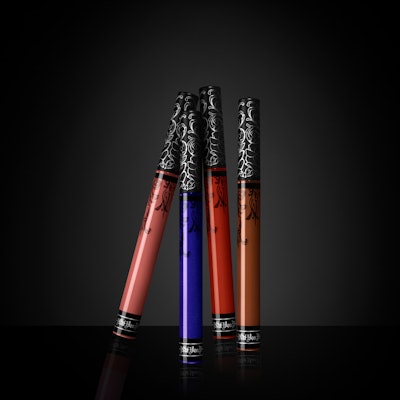 Farm Sanctuary x Kat Von D Everlasting Liquid Lipstick
The four new, limited-edition shades of her 100% Vegan Everlasting Liquid Lipstick are each inspired by real animals at Farm Sanctuary and available now for a limited time on Katvondbeauty.com, Sephora.com, and in Sephora stores. These four shades benefit a cause extremely close to Kat's heart—animal advocacy and compassionate vegan living—and 20% of proceeds from this collection will go to support Farm Sanctuary's lifesaving work for abused and neglected farm animals. As a lifelong animal advocate, Kat makes sure all of her products are cruelty-free and never tested on animals.
[Images courtesy of their respective brands]