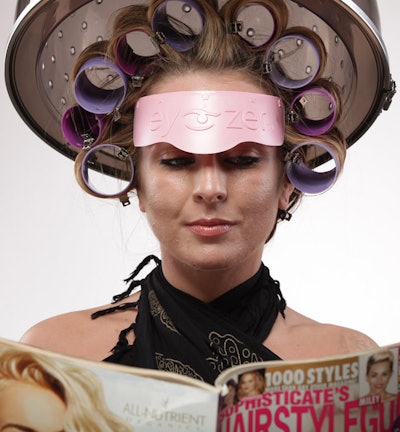 The Eyezer is a heat and beauty shield designed specifically to bring comfort and protection to clients while receiving salon services.
The sleek one-of-a-kind design provides total protection to the eyes and face from: harsh fumes, unwanted hair clippings, product splash, and warm air from a hooded dryer.
So far, the Eyezer has been utilized by professional stylists and cosmetology students around the globe for every styling need. Whether in the salon chair, at hair shows, or educational classes, top professional stylists and colorists alike rely on it.
The Eyezer comes in a range of assorted colors from the standard black and white to bright shades of pink and green. Most importantly, it is reusable and able to be sanitized according to cosmetology board standards.
Click here for more information!
[Image courtesy of Eyezer]