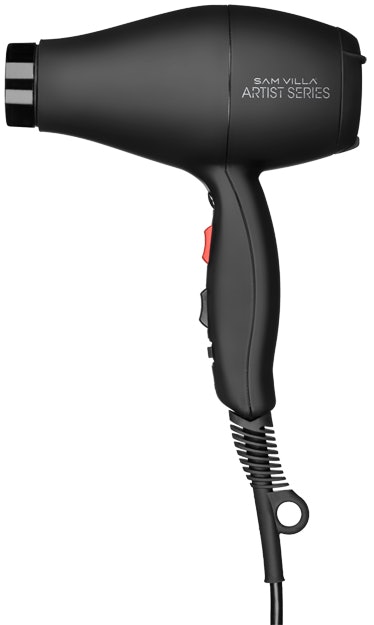 Sam Villa Artist Series tools are an prestigious category of high-end tools for the discerning stylist who demands the very best in precision and performance. The line debuted with brushes and combs, then shears were added this spring. Now it's been announced that the Artist Series Professional Blow Dryer hits the market in June 2017!
Ruth Roche, global artistic ambassador for Pureology said she's, "Loving the dryer; I use it all the time. It's definitely hotter than the regular dryer, but I'm a heat addict and could always use more. This is the dryer I will be using for all my classes and shows from now on!"
The Artist Series dryer is ergonomically designed with a shorter nozzle and comfortable handle to reduce muscle strain for all day use. It features an on/off ion generation switch – use ion generation for seriously smooth frizz-free finishes and turn it off to create added volume and texture. It has 3 heat settings, 2 speed settings and a cool shot.
Other features include a durable AC motor for professional use and extended 9-foot cord for ease of movement and cool accessories, like a removable filter that unlocks easily for effortless cleaning. It also has two rotating nozzles and a diffuser – a wide nozzle for expanding airflow while drying long hair; narrow nozzle for concentrating air for polished finishes and a deep bowl diffuser for reduced frizz while respecting natural curl patterns on wavy and curly hair.
Lanza Global Creative Director, Matt Swinney, said, "After using the dryer I am so curious as to how it's such a decent weight and still has all that power. Definitely a permanent addition to my show kit - hair felt smooth, dried fast, but wasn't over-dried to the point of creating unwanted frizz. Home run!"
The dryer also delivers benefits for colorists. "The Sam Villa Artists Series Dryer dries hair in half the time, and when I'm preparing and treating hair before coloring, I need hair to dry quickly. And because of the negative and positive ion feature, it reduces static electricity making Balayage and highlighting much easier," explained Kris Sorbie, Redken Global Artistic Director.
The Sam Villa Artist Series Professional Blow Dryer can be purchased at SalonCentric, State Beauty Supply, RDA ProMart, or on Sam Villa's website.
[Image courtesy of Sam Villa]