Just in time for summer, Matrix's Blonde Light Master gets a makeover with updated packaging and the same great formula and size options, plus an upgrade of two new Light Master additives. As a result, blonding pros and their clients now have one simple, uncomplicated system that offers blonde client customization while enhancing the lightening performance.
Light Master Lightening Powder delivers up to eight levels of lift, and contains conditioning Panthenol to maintain hair integrity, health and luster throughout every lightening technique. The two new Additives are to be added to Light Master Lightening Powder to enhance and refine a variety of lightening techniques:
Light Master Oil Additive is a moisture-enriched formula that shields delicate skin for enhanced scalp comfort. It's ideal for adapting Light Master Powder for on-scalp lightening applications, color melting, dip dye and classic foil techniques.
Light Master Freehand Additive is Matrix's first Kaolin Clay-based additive designed for open air lightening techniques like balayage, ombré, and hair painting. This formula encapsulates the hair and stays moist, empowering the colorist with complete creative freedom with a stay put texture for freehand applications.
No formula or processing time adjustments are necessary when including these additives in a Light Master formula. What's more, Light Master is optimized for use with Bond Ultim8, the bond protection system that repairs bonds during chemical hair processes and protects the bonds over time. Bond Ultim8 provides eight key benefits, including protecting, strengthening and preserving hair's structural bonds; preventing breakage; enhancing smoothness and softness and producing healthier looking hair.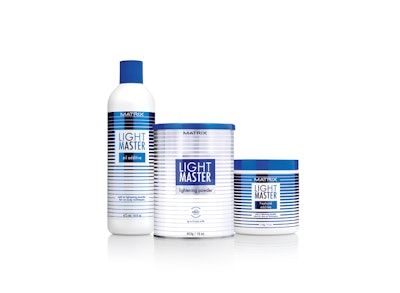 The additives extend the full range of Matrix lightening and blonding formulas, including Light Master, SOCOLOR Permanent High Lift shades, SOCOLOR Extra Blonding Cream, ColorInsider, V-lights and ColorGraphics Lift & Tone.
 
The launch coincides with a new collection of lightening techniques that reflect the latest hair color trends, including Lightly Lavender, All-Over Blonde Bombshell, Blended Balayage, Violet Quartz, Jaw Strobe Cotton Candy, Almost Blonde and Smokey Sombré.  Pros will have access to these inspirational looks and how-to's via MatrixProfessional.com.
[Images courtesy of Matrix]