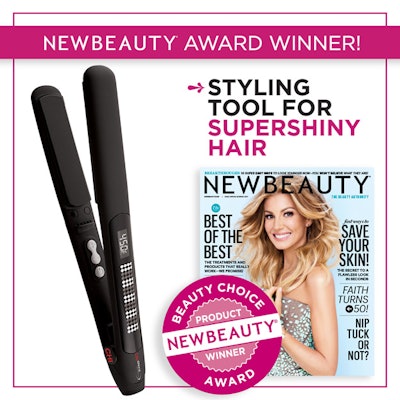 Hundreds of thousands of NewBeauty readers, as well as beauty experts and editors made their votes count in NewBeauty Magazine's seventh-annual Beauty Choice Awards. The winners are featured in the Spring/Summer 2017 issue—on stands in April!
The Beauty Choice Awards recognizes more than 100 of the industry's best products, spanning categories including makeup, skin, hair, nails, smile, body and anti-aging, for what it is that truly sets them apart. Winners include cult-classics and new launches, as well as groundbreaking innovations.
Farouk Systems is excited to announce that from more than two thousand different product submissions and hundreds of nominated products, the CHI Onyx Euroshine Hair Styler has been selected as the winner for the Styling Tools for Super Shiny Hair category. "We are honored to be selected for this prestigious award and would like to thank NewBeauty's readers, beauty experts and editors for casting their votes for the CHI Onyx Euroshine Hair Styler." says, Dr. Farouk Shami, Founder and Chairman of Farouk Systems.
In addition to recognizing the best products in the industry, the Beauty Choice Awards also serves as an informational trifecta for readers. It not only delivers tailored solutions to any and every beauty-related concern, but also provides details about the award winners, including key ingredients, scents and textures to educate readers and help them decide which products could be their new favorites. Specific award categories, like "Instant Results" and "Problem Solvers," organize winning products to easily allow the readers to find the ones that will best address their specific needs.
"The amount of products submitted for this year's Beauty Choice Awards was astounding," says NewBeauty Editor-in-Chief, Yolanda Yoh Bucher. "The staff (plus a team of our trusted experts) tested every single bottle and jar. From what's trending and in-office innovations to supercharged sunscreens, products that work their magic overnight and makeup that lasts—the winners include the best of the best in beauty. We're confident that the winning products will introduce our readers to many new beauty essentials."
To learn more about CHI Onyx Euroshine Hair Stylerand to see all of the Beauty Choice Awards winners, click here.
[Image courtesy of CHI]