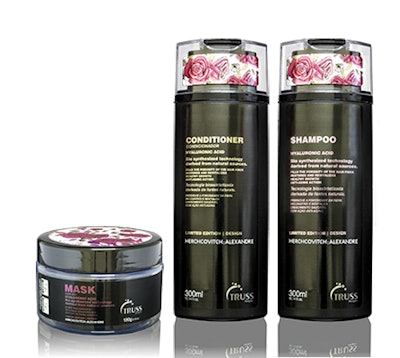 On October 27th, Brazilian haircare brand TRUSS Professional will host its #inbeautyweTRUSS Launch Party at New York City's Buddakan restaurant. Attendees will have a chance to mingle and witness the launch of the brand's beautiful Alexandre Herchcovitch TRUSS haircare line. Every season, the renowned designer creates a new package design for TRUSS Professional inspired by his collection, and this season's look is as gorgeous as ever.
Not only is the unique designer packaging stunning, but so are the results from the products themselves. "The Alexandre Herchcovitch TRUSS haircare line is truly unique; it promises to surprise you with its outstanding and immediate results," says Alexandre.
Guests at the event will learn about the heritage and history of TRUSS from Manuella Bossa, CEO and founder of TRUSS Professional, and will also get a sneak peek at the new line launching in the US. Attendees will also have the opportunity to meet and chat with social media mavens Rachel Apollonio, Camila Senna and Lena Piccininni, and will go home with amazing TRUSS samples.
"We are so excited to be launching in New York, a city known for Fashion Week, where every year fashion leaves the past behind and looks forward to the future," says Manuella.
For more information, please visit usa.trusscosmetics.com or call 1-844-TRUSS11.