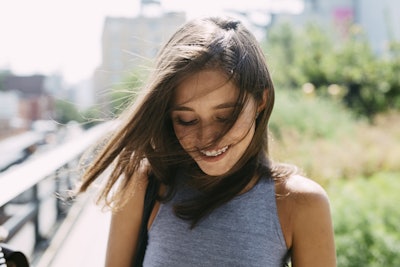 Celebrity hairstylist and Heritage Hair NYC owner, Melinda Bouldin, knows that when it comes to summer haircare, there's a fine line between "hot" and "hot mess." Help your clients beat the heat and humidity this season with Bouldin's 3 summer haircare essentials, below!
1. A color depositing conditioner
Bouldin swears by color depositing conditioners to help your client maintain the vibrancy and longevity of her color. One of Bouldin's favorite lines is EVO Fabuloso, and she particularly loves their Colour Intensifying Platinum Blonde Conditioner because it helps maintain a true, natural blonde color. "Blondes tend to get a brassy look to their hair as the color fades," says Bouldin. "[A color depositing conditioner helps] to slow down the oxidation process that causes this by neutralizing the yellow tint and depositing a vibrant color back into the hair. It's also great for helping natural brunettes maintain blonde highlights."
2. A nourishing hair oil or cream
A hair oil or cream is essential in helping keep summer strands soft and healthy. Bouldin and her clients love the results from Shu Uemera's Essence Absolue Nourishing Oil and Cream. It helps prevent frizz, and offers UV protection for reducing potential sun damage. "This product works wonders by replenishing the hair with moisture," says Bouldin, "It also gives hair that beautiful salon-perfect, glossy shine that will leave your clients feeling red carpet-ready."  
3. A deep-conditioning, repairing mask
Ideal for combating the dryness that can occur from too much fun in the sun, Bouldin swears by the powers of a deep conditioning treatment, like Shu Uemura Art of Hair Moisture Velvet Nourishing Treatment. "This product makes it easy to give your clients' hair a miraculous mini makeover when it comes to softening dry, brittle strands, and it works great for every hair texture," she says.