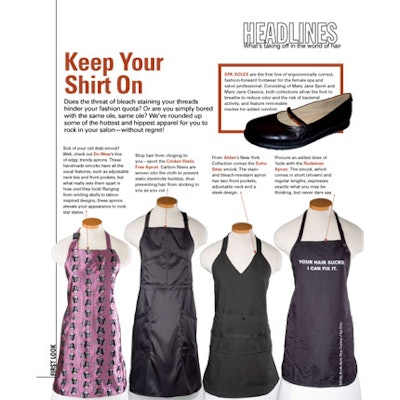 Does the threat of bleach staining your threads hinder your fashion quota? Or are you simply bored with the same ol', same ol'? We've rounded up some of the hottest and hippest apparel for you to rock in your salon—without regret!
From Aldan's New York Collection comes the Soho Sexy smock. The stain-and bleach-resistant apron has two front pockets, adjustable neck and a sleek design.
Sick of your old drab smock? Well, check out Do Wear's line of edgy, trendy aprons. These handmade smocks have all the usual features, such as adjustable neck ties and front pockets, but what really sets them apart is how cool they look! Ranging from smiling skulls to tattoo-inspired designs, these aprons elevate your appearance to rock-star status.
Stop hair from clinging to you—sport the Cricket Static Free Apron. Carbon fibers are woven into the cloth to prevent static electricity buildup, thus preventing hair from sticking to you as you cut.
Procure an added dose of 'tude with the Rudeman Apron. The smock, which comes in short (shown) and regular lengths, expresses exactly what you may be thinking, but never dare say.
Spa Soles are the first line of ergonomically correct, fashion-forward footwear for the female spa and salon professional. Consisting of Mary Jane Sport and Mary Jane Classics, both collections allow the foot to  breathe to reduce odor and the risk of bacterial activity, and feature removable insoles for added comfort.