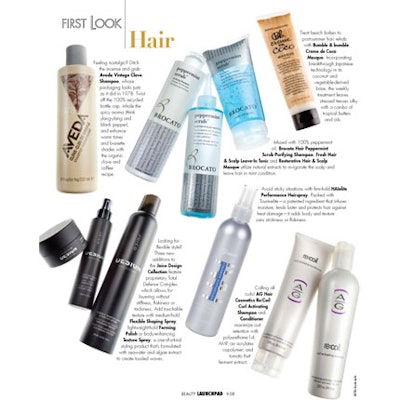 Hair looking for flexible style? Three new additions to the Joico Design Collection feature proprietary total Defense Complex, which allows for layering without stiffness, flakiness or tackiness.
Add touchable texture with medium-hold Flexible Shaping Spray, lightweight-hold Forming Polish or body-enhancing Texture Spray, a one-of-a-kind styling product that's formulated with seawater and algae extract to create tousled waves.
Feeling nostalgic? Ditch the incense and grab Aveda Vintage Clove Shampoo, whose packaging looks just as it did in 1978.
Twist off the 100% recycled bottle cap, inhale the spicy aroma (think ylang-ylang and black pepper), and enhance warm tones and brunette shades with the organic clove and coffee recipe with Bumble & Bumble Creme de Coco Masque. Incorporating breakthrough Japanese technology in its coconut- and vegetable-derived base, the weekly treatment leaves stressed tresses silky with a combo of tropical butters and oils.
Infused with 100% peppermint oil, Brocato Hair Peppermint Scrub Purifying Shampoo, Fresh Hair & Scalp Leave-In Tonic and Restorative Hair & Scalp Masque utilize natural extracts to invigorate the scalp and leave hair in mint condition.
Calling all curls! AG Hair Cosmetics Re:Coil Curl Activating Shampoo and Conditioner maximize curl retention with polyurethane-14; AMP, an acrylates copolymer; and tomato fruit ferment extract.
Avoid sticky situations with firm-hold HAIelite Performance Hairspray.  Packed with tourmelite—a patented ingredient that infuses moisture, lends luster and protects hair against heat damage—it adds body and texture sans stickiness or flakiness.