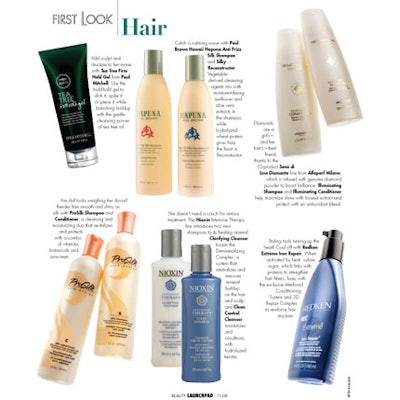 Diamonds are a girl's—and her hair's—best friend, thanks to the 12-product Semi diLino Diamante line from Alfaparf Milano, which is infused with genuine diamond powder to boost brilliance.
Illuminating Shampoo and Illuminating Conditioner help maximize shine with linseed extract and protect with an antioxidant blend.
Add sculpt and structure to her mane with Tea Tree Firm Hold Gel from Paul Mitchell. Use the bold-hold gel to slick it, spike it or piece it while banishing buildup with the gentle-cleansing power of tea tree oil.
Are dull locks weighing her down? Render hair smooth and shiny as silk with ProSilk Shampoo and Conditioner, a cleansing and moisturizing duo that revitalizes and protects with a combo of vitamins, botanicals and sunscreen.
Styling tools turning up the heat? Cool off with Redken Extreme Iron Repair. When activated by heat, xylose sugar, which links with proteins to strengthen hair fibers, fuses with the exclusive Interbond Conditioning system and 3D Repair Complex to reinforce hair structure.
She doesn't need a couch for serious treatment. The Nioxin intensive therapy line introduces two new shampoos to its healing arsenal: Clarifying Cleanser boasts the Demineralizing Complex, a system that neutralizes and removes mineral buildup on the hair and scalp; and Clean Control Cleanser moisturizes and conditions with hydrolyzed keratin.
Catch a calming wave with Paul Brown Hawaii Hapuna Anti Frizz Silk Shampoo and Silky Reconstructor. Vegetable-derived cleansing agents mix with moisture-infusing sunflower and aloe vera extracts in the shampoo, while hydrolyzed wheat protein gives frizz the boot in Reconstructor.