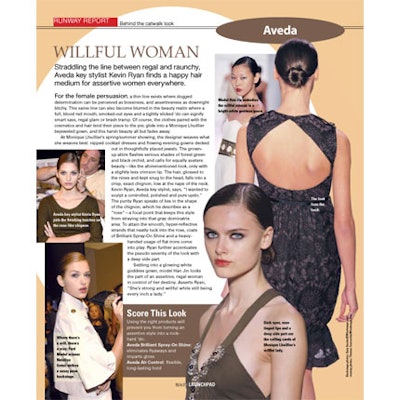 Straddling the line between regal and raunchy, Aveda key stylist Kevin Ryan finds a happy hair medium for assertive women everywhere.
Designer: Monique Lhuillier
Products: Aveda
For the female persuasion, a thin line exists where dogged determination can be perceived as bossiness, and assertiveness as downright bitchy. This same line can also become blurred in the beauty realm where a full, blood red mouth, smoked-out eyes and a tightly slicked 'do can signify smart sass, regal glam or brash tramp. Of course, the clothes paired with the cosmetics and hair lend their piece to the pie; glide into a Monique Lhuillier bejeweled gown, and this harsh beauty all but fades away.
At Monique Lhuillier's spring/summer showing, the designer weaves what she weaves best: nipped cocktail dresses and flowing evening gowns decked out in thoughtfully placed jewels. The grown-up attire flashes serious shades of forest green and black orchid, and calls for equally austere beauty—like the aforementioned look, only with a slightly less crimson lip. The hair, glossed to the nines and kept snug to the head, falls into a crisp, exact chignon, low at the nape of the neck. Kevin Ryan, Aveda key stylist, says, "I wanted to sculpt a controlled, polished and pure updo."
The purity Ryan speaks of lies in the shape of the chignon, which he describes as a "rose"—a focal point that keeps this style from straying into that gray dominatrix area. To attain the smooth, hyper-reflective strands that neatly tuck into the rose, coats of Brilliant Spray-On Shine and a heavy-handed usage of flat irons come into play. Ryan further accentuates the pseudo severity of the look with a deep side part.
Settling into a glowing white goddess gown, model Han Jin looks the part of an assertive, regal woman in control of her destiny. Asserts Ryan, "She's strong and willful while still being every inch a lady."
Score This Look
Using the right products will prevent you from turning an assertive style into a rock-hard 'do.
Aveda Brilliant Spray-On Shine: eliminates flyaways and imparts gloss
Aveda Air Control: flexible, long-lasting hold