Ray Civello and Lupe Voss, hair industry veterans, have collaborated for the launch of Color Space.
Color Space is a new, scientifically driven hair color line founded on research into the science of color, which will fundamentally alter the way salon professionals and their clients experience color.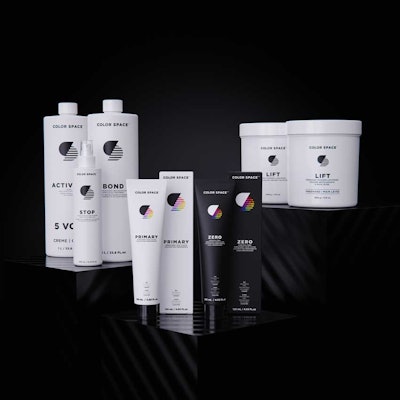 The brand features ammonia and ammonia-free permanent color lines, powder lighteners, developers, a bonding and restructuring treatment, and an oxidization-stopper cuticle sealant. 
"We believe in doing business differently," says Civello. "We are embracing a holistic approach, ranging from developing innovative offerings to looking at how we can help salons maximize their profitability. Weathering the challenging times of 2020, like never before the industry needs to band together and support each other in meaningful ways–a movement Color Space is excited to help influence." 
Color Space is the first line to be introduced under Collective Beauty Brands, founded by Civello, which brings talented industry notables together to incubate meaningful brands. 
"I've always been an advocate for how crucial education is to color excellence," says Voss. "Education is the beating heart of Color Space. With CS Ed., we reimagined education with the  necessary tools and technologies to give creators consistent results. From the foundational element of how we  see color, to fully calibrated color products, our resources paired with our educational program will enable salon professionals to overcome the problems identified by Professor Rizzi and his team at the University of Milano. We won't stop until creators get consistent positive results for their clients every single time."