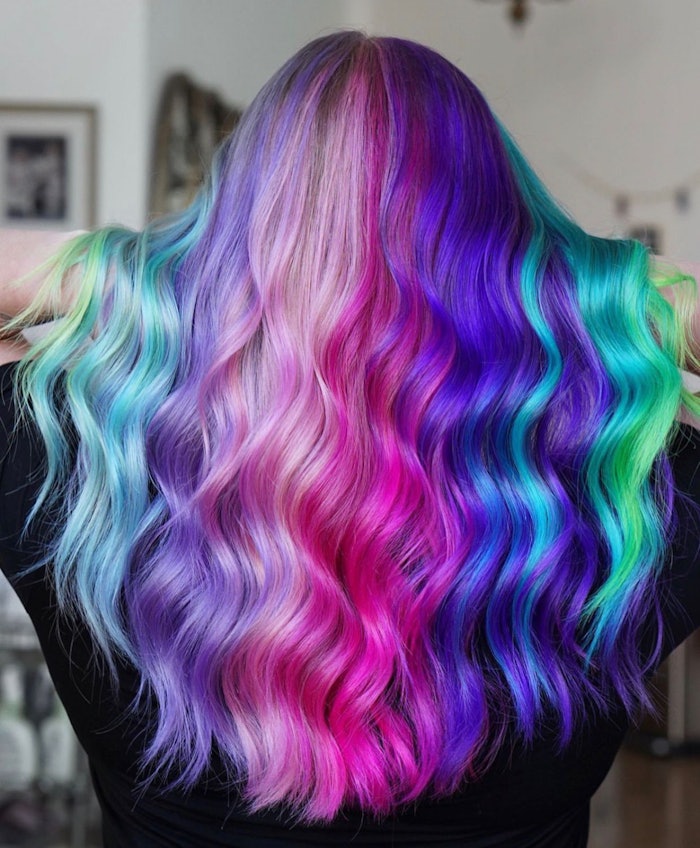 Ever wish you could brighten your masterpiece while maintaining vibrancy? Well, you're in luck. PRAVANA introduces an additive option to expand your color palette with the launch of VIVIDS Clear-Dilute. The latest addition to the collection allows colorists to lighten their VIVIDS shades without sacrificing vibrant tonality. With the continuing rise of wearable creative colors and '90s-inspired tie-dye, VIVIDS Clear-Dilute is an amazing way for you to give your clients the looks they see on Instagram and ask for. There are endless variations of creative colors to unleash your creativity with the new VIVIDS Clear-Dilute.
VIVIDS Clear-Dilute, which is clear and gel-like, lightens tones but still maintains the vibrancy of existing VIVIDS shades it's mixed with. It differs from PRAVANA's existing VIVIDS Clear (known as VIVIDS Clear-Pastel moving forward) shades because VIVIDS Clear-Pastel creates more muted, pastel tones. Check out Kayla Boyer's photo above where she shows the difference between mixing VIVIDS Clear-Dilute (right) and VIVIDS Clear-Pastel (left) with her favorite VIVIDS formulas to create this gorgeous half-and-half look!
Begin with VIVIDS Clear-Dilute and add drops of VIVIDS shades to create custom formulas. Apply on dry, clean hair and process for 20-30 minutes. Rinse in cold water, dry and style as desired.