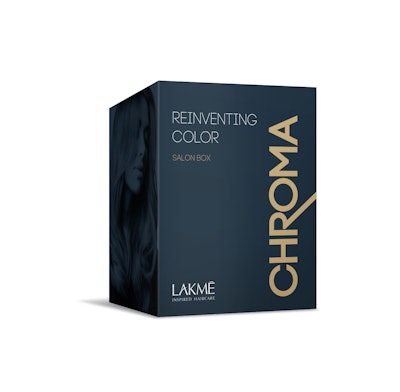 Lakme is introduced a product so you'll never be stuck guessing color outcome again. The Chroma in-salon box is free of complicated formulas and limitations, and is the ultimate tool to break through the boundaries of color creation and give the stylist maximum creativity. It's been proven that clients are conscientious and desire healthy and eco-friendly products, so the Chroma box is 100% ammonia-free, vegan, dermatologically tested, and easy to use. With vibrant color formulations ranging from everyday wearable trends to fashion shades, the Chroma in-salon box is the unparalleled way to maximize, perfect and reinvent color. 
The Chroma box also introduces the Freedom Education Collection, which includes step-by-step guides and formulation for cutting-edge and fashion forward trends and techniques stylists need to evolve their skills, and cater to each of their clients' needs. 
With an easy swap in developer, Chroma can be utilized as permanent or demi-permanent color, for ultimate versatility and unlimited options.
Learn more about the Chroma box here.
[Images and video courtesy of Lakme]