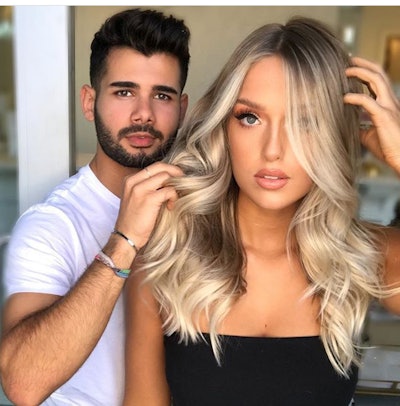 Sarmad Najem is a crazy talented hairdresser has been in the industry for more than 12 years, training and working across multiple countries and continents. He's built an international clientele and impressive Instagram following, and just this April, he joined the Schwarzkopf Professional Vibrance Core Team. We wanted to hear his take on the new IGORA VIBRANCE line, so we asked him a little about it.
Tell me about your experiences with IGORA VIBRANCE so far.
I've been using IGORA VIBRANCE since he became part of the Schwarzkopf Vibrance Core Team in April of this year. I'm impressed with how much time the application of this product saves me due to ease of application. The experience for myself & clients has been overwhelmingly positive.
How would you compare it to other demis you've used? What colors from the line are your favorite?
Compared to other demis, I find that IGORA VIBRANCE gives longer lasting color and leaves hair looking shinier, silkier and in better condition. I use a lot of 8-11, 8-4, 9.5-49 & 9.5-21.
What are the pros and cons to a demi service?
I like the demi-colour service for it's quick easy application & the beautiful finish.
On what type of client would you recommend IGORA VIBRANCE, and how have your clients reacted to the service?
I use IGORA VIBRANCE a lot for lighter hair, but can also use on levels 1-4 for a darker, richer, shinier tone (with 13vol in this case). I have a great regular clientele who has been very pleased with the results!
Why should a stylists consider adding IGORA VIBRANCE to their repertoire?
I would recommend IGORA VIBRANCE to other stylists for it's quick & easy application, long lasting color (up to 25 washes) & gorgeous shiny finish.
For more information about Schwarzkopf Professional's IGORA VIBRANCE, click here.
[Images courtesy of Schwarzkopf Professional]