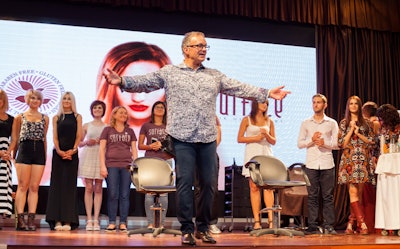 Surface, which has been a staple in the hair industry for almost a decade, just launched a new line, Pure Color. To get all the information, we talked to its founder, Wayne Grund.
You launched Surface nearly 10 years ago.  Why wait so long to launch Pure Color?
Perfection! The time was devoted to perfecting a system of organic delivery of the color, built in bond building and enzyme cream activators. Most manufactures purchase 'stock' dyes to use within their formulas. Surface has personally formulated each color to perfection with a proprietary blend of dye intermediates and color couplers all which respect personal health and the Earth.
How difficult was it to stand by the Surface mantra of 'respect hair health and the earth' when formulating Pure Color?
It proved to be very challenging and very rewarding as the result is a hair color that outperforms traditional colors all while respecting personal health and the Earth. We achieved our goal of the richest, purest color with the best longevity all while having the option of choosing the ECA to have Pure Color perform as a demi or permanent color; one color that tones, overlays, covers grey and is used as a base breaker. Our breakthrough came with the perfection of certified babassu oil as a 'driver' within the delivery system and then the use of pectinase and moringa oil in the Enzyme Cream Activators. Once we perfected the delivery of anti-oxidants and vegan bond building, the elimination of PPD was not too difficult.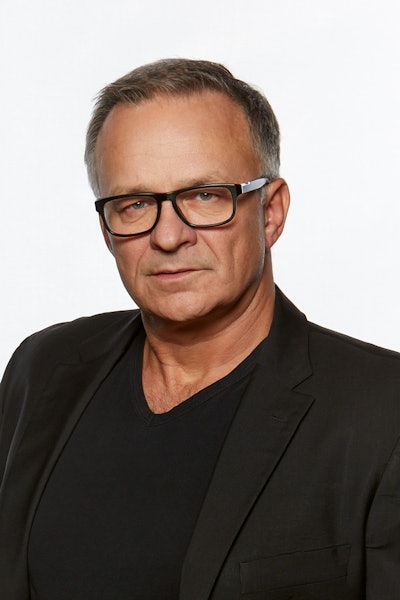 What makes Surface Pure Color different?
I prefer the term 'better'; we identified this in the previous questions-- Pure Color works as a richer, longer lasting demi color and a richer superior conditioning permanent color.
What was your inspiration for the Pure Color color palette?
Surface is 'Hairdressers for Hairdressers.' Our color palette is inspired by the 98% of salon guests that want pure rich natural looking color. 
How many more colors do you plan on launching within the Pure Color line up?
We will keep it simple with the focus on education and the 'Endless Blends' in formulation. Maximum Creativity with Maximum Profit! Expansion of colors will be determined on the what we see as on-trend, for example in January we are adding 9R Rose and 9B Sky; both are blonde tones that will be extremely popular for many years.
What is it that stylists love the most about using Pure Color?
The most common responses we receive is how easy it is to work with, the rich pure tones, shine and amazing condition it leaves the hair with.
Do you a favorite and particularly artistic Pure Color "color creation" to date that you would like to share with us?
 My favorite seems to be a favorite of many, it is our Rose Gold 3 parts 9NB Butter + 1 part 7R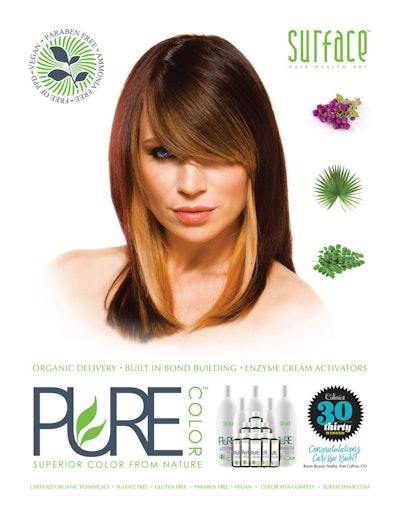 How has hair color changed over the past decade?
Consumer awareness is demanding hair color that respects their personal health; we have seen a great rise in allergies overall and Pure Color speaks to this as a beautiful hypo-allergenic option.
Tell us about the launch of Pure Color in Europe.
Europeans love Pure Color for the rich pure tones as well as the amazing shine and condition; they appreciate the organics of Pure Color; however, this is their second attraction to the overall performance. Personally, I love that Surface Pure Color is North American; innovated, formulated and manufactured in North America! We see other North American manufactures state how their color is from Italy or Germany; we have shown the world that the best hair color can be made right here at home. 
What's next for Surface?
Innovation! We have a major break through launching in 2018. I can't tell you too much, but watch for CHAR!
For more information or to purchase Pure Color, click here.
[Images and video courtesy of Surface]