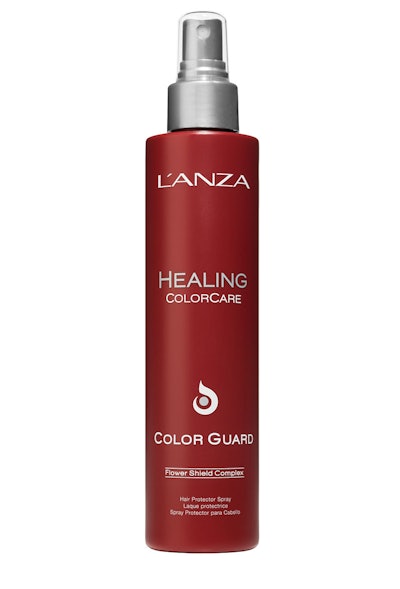 L'ANZA introduces Color Guard, a unique plant-based pre-shampoo and leave-in conditioner spray which restores, hydrates and protects color against water fade, the leading cause of color pigment washout. L'ANZA Color Guard also protects hair color from the environment for dramatically longer-lasting, vibrant hair color. In addition to in-salon, it can be used for at-home care and before swimming at the pool or beach.  It is specially formulated with Flower Shield Complex and Lotus Leaf plant adaptogens, which repel water and help prevent color loss.
 A first of its kind, L'ANZA Color Guard is designed to repair and reinforce hair's vital barriers, offering the highest form of color protection now possible. It works on all shades including fragile blondes and reds. The lightweight formula extends hair color up to 107% longer, prevents water-induced color fading, dramatically slows color degradation with super antioxidants, and stops ultraviolet fading with natural UV protectors extracted from powerful botanicals.
 
Since water alone is accountable for more than 70% of all hair color fading, Color Guard was developed to keep hair hydrated and buffer it from water damage, keeping color intact. Featuring a proprietary scientific breakthrough called Wash Shield™— Color Guard protects from both water and oxidative hair coloring chemicals. Wash Shield™ uses botanical lotus leaf plant adaptogens to repel water and guard against color washout.  
Color Guard also contains L'ANZA's Flower Shield Complex, which offers full-spectrum hair color protection for all shades at every level. Flower Shield Complex gives a perfectly balanced botanical blend of phyto-compounds from plants and flowers such as green orchid, white gardenia, hibiscus, calendula, echinacea, and rose, that help further extend hair color longer and ensure full color gap protection.
 
Perfect for every day styling, Color Guard can be used in various ways. To prevent water-induced color fading, spray it directly into dry hair before shampooing. To protect hair color, spray into towel-dried hair after shampooing and leave in. Apply prior to styling and blow-drying.
Also new from L'ANZA is innovative Color Illuminator Hair Brightener—a daily-use hair color brightener containing Optical Refraction Technology that sprays in after styling to instantly illuminate hair color with astonishing brilliance and renewed vibrancy. Like the best social media filter, the Color Illuminator makes hair color appear more saturated and sharper, and offers unparalleled shine and dimension.
 
L'ANZA formulas feature natural ingredients sourced from around the world, which are developed into sustainable products with plant-based ingredients. Products are animal cruelty free, eco-friendly and environmentally compliant, featuring organic essential oils, organic, wild crafted and non-GMO botanicals grown organically in sustainable forests, jungles and woodlands, as well as recycled materials.
The entire collection of L'ANZA Healing Haircare products are available exclusively at fine salons. Visit https://lanza.com/ for more information, or follow the brand on Facebook, Twitter, Instagram, or Pinterest.
[Image courtesy of L'ANZA]