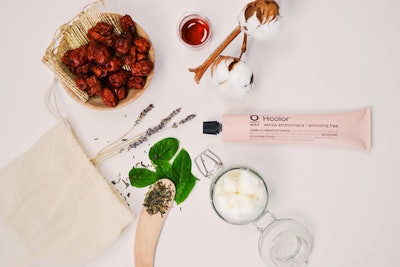 Whenever celebrities and industry influencers start fawning over a new beauty brand only available in salons, we can't help but take notice! Lately, there has been mega buzz surrounding Organic Way (Oway) – an Italian-based holistic beauty brand.
Their exclusive range of hair color, care, treatments and styling products pioneer a holistic approach to beauty and wellness. Their Hcolor line was even voted best permanent ammonia-free hair color by Beauty Launchpad readers.
To get the scoop, we turned to Simply Organic Beauty, who exclusively launched the Oway brand in North America last year:
"We believe true beauty is achieved when you look and feel your best. To us, that means choosing products that are in line with your values and don't harm your hair, health or our planet. All products must also perform to the highest standard, and we believe we've found that perfect balance with our Oway line," says Rebecca Gregory, Simply Organic's Education Director.
All Oway products are made with biodynamic botanicals from their family farms in Italy, verified fair trade ingredients, pure essential oils, sustainable packaging, and are certified cruelty-free by PETA. After learning more about the brand, we looked to hair stylist, Dustin Stone to give us his review of Oway's products. Dustin is a seasoned colorist and Creative Director at Oasis Spa in West Virginia – you've probably seen the amazing how-to's we've shared from him in the past!
 
Check out Dustin's Oway review:
Oway: My First Impression 
Let's face it, if you know nothing about the Oway brand, the first thing you'll be drawn to is the look of their products. Their plant butter based lightener and developers came in amazing packaging – very clean, chic, modern and simple.
The Hcolor tubes and boxes were well designed and made of recycled material that is very strong and sturdy – you could tell right away this was a higher end product. I was also pleased to see how large the Hcolor tubes were (more ounces compared to traditional color lines).
 The retail products and Hsystem (back bar products) are packaged in amber glass bottles. Not only did they look amazing, but the amber glass protected the high percentage of plant-based ingredients and essential oils in the products.  Aesthetically, everything looked beautiful together. From the lightener to the color products, you can easily see this is a high end luxury brand – absolutely no corners were cut. Oway: Hcolor Review The first two things most stylists will ask about more natural color lines are:
1) Does it cover grey? 2) Are the colors vibrant? I was able to put Oway to the REAL TEST in terms of grey coverage and vibrancy.
 Using their Natural Series (recommended in your grey coverage formulas), I got good grey coverage on basic retouch clients. The color has a softness that makes it look very natural on clients.
I had a few challenges with some of my most resistant grey clients, but the product is not to blame for that. I have a hard time covering these ladies with most every color line.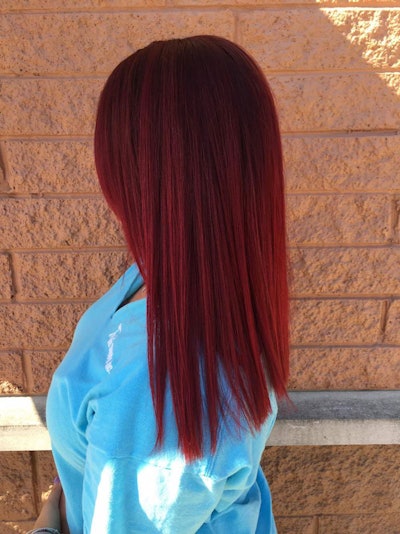 I was able to use their 6.66 double red on this client below, and I must say THEIR REDS ARE EVERYTHING. Processing time varies depending on if you use Oway's Hypercolor Accelerator drops, which assist with grey coverage and can process clients in 20 minutes or less! 
At first glance, this may seem like a more expensive color line, but the larger tubes, 1:1.5 mixing ratio and consistency (a little goes a long way) makes your costs for this color not much different than most other lines.  I'm really looking forward to playing more with this color line.
Oway: Hbleach Review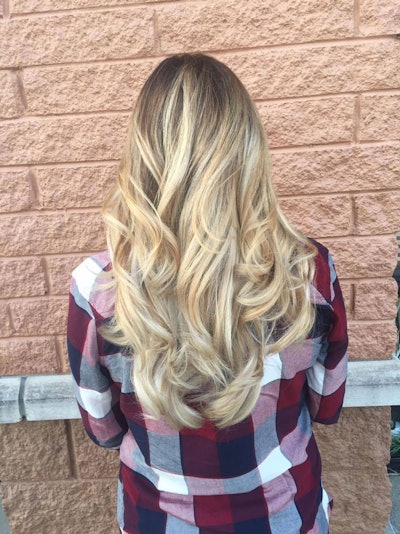 Two words: ABSOLUTELY AMAZING.
Hbleach is Oway's creamy plant butted-based lightener. Made with kukui butter and pure essential oils, the smell is a very light essential oil fragrance and does not have any odor.
This bad boy has become the love of my life in the lightener world. The consistency (which is a big thing for me) is very adjustable depending on the service I was using it for. You can easily do on-scalp lightening, highlighting or your favorite hand painting techniques.  
The product is super gentle and non-irritating. My clients enjoyed the delicate scent and lack of odor, and they're not begging for a comb to rub their scalp like they did with traditional lighteners. I was able to achieve amazing lift! I also noticed that it lifts very clean and I didn't have to tone as often.
My balayage ratio was 1:1.5 and highlights/retouch 1:2. This lightener was just super gentle. I used with 20, 30 and 40vol and never had any issues with damage. I added Olaplex to the equation a few times out of curiosity, and was happy to say this lightener is completely compatible.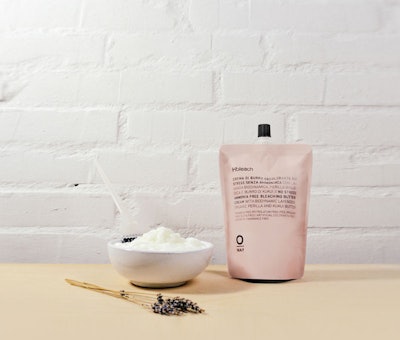 In close: Hbleach is amazing! I was previously using a well known clay-based lightener for my balayages, but Hbleach has completely replaced all of them (I was a bit of a lightener junkie). Same goes for my lifts and tone retouches.
Hsystem: Oway's Holistic Back Bar Products
Hsystem is Oway's complete lineup of professional back bar tools that truly bring the whole holistic hair experience together. I was sent the Hbalance Shampoo and Mask which are specifically intended for post color services. Both products are expertly formulated with an ideal pH to gently remove color and seal the cuticle.
The products smelled amazing (I literally had a client try to buy it off my backbar)! After using Hcolor and Hsystem together, the hair felt SO nice. Almost like nothing had been done to it. I was also sent Hscreen - their 99% natural barrier product. This one has been a game changer for me! No more color on my hands and fingernails and clients never leave with a stained hair line.
There are many other colorist dream tools in the Hsystem line, Hrestore (porosity balancing spray) and Hmilk No Stress, but these were the only ones I tested.
Oway: Retail Products Review
In addition to the color products, I was also sent some of Oway's retail products to you review. All of their styling products are free from parabens, SLS/SLES, synthetic fragrance, artificial color, PEGs/PPGs, petroleum, mineral oil and animal testing.
Bio-rich water
 This was the first product I ran out of – I love it so much! It's made with pure essential oil hydrolates, which is the water left over after you steam distill essential oils.  Many don't know that water is full of the same active benefits as the oil, and definitely shouldn't be wasted. Needless to say it smelled amazing! It was acted as insanely awesome cutting spray and was not heavy on the hair. 
Boho Pomade
 It's amazing for short, textured styles! It's very versatile and gives women a great textured look without weighing it down, while also giving enough control to manage kids/mens slicked over cut.
 The scent was also very clean and fresh and could be retailed to both female and male clientele.
Glamshine Spray
 Also another favorite with a great smell! It adds shine to the hair without being too heavy. However, a little goes a long way!
Nurturing Drops
An ultra concentrated serum that I enjoyed using after highlights or lightening. They truly make the hair feel new, again.
Sea Salt Spray
Amazing for that beach wave style that everyone is always trying to achieve. My experience in the past with sea salt sprays has not been the best. I've felt most leave the hair feeling dry and a bit ratty.
However, this product does not and adds amazing texture! Again, scent of this product was fantastic – a light citrus scent.
Final Impression: This company is going to be a game changer in this industry. Clients that have previously had sensitivities are receiving color services, again! It's a clean, high end product line that I can stand behind 100% and offer to my clients! All in all, these products are absolutely amazing! Would I purchase? Absolutely!  f you want to try Oway's products for your salon, you can purchase them through Simply Organic Beauty here.
P.S. Ask about their 30-day money back guarantee.