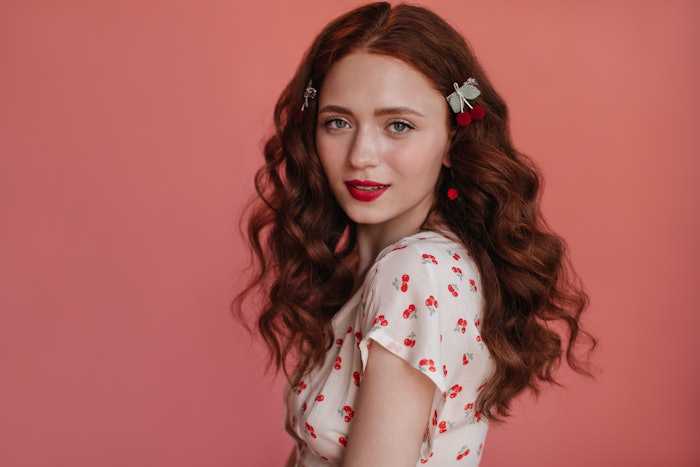 Embracing the up-coming seasonal shift, it's time to bid farewell to the sun-kissed days of summer and welcome the enchanting hues of fall. 
All Things Hair delved into Pinterest data to discover which hair styles and shades are the top growing trends this season. Honey blondes are gracefully giving way to deeper, richer shades that mirror the landscape and long flowing locks are being tamed to a shorter, choppier look.
Check out this fall's hottest looks:
Cowboy Copper 
According to Pinterest, this stunning cowboy copper hair color has surged in popularity by a whopping +10,000% from last year. With a base of deep earthy browns reminiscent of well-worn leather, this look is elevated with pops of intense coppery red, creating the perfect combination of rustic and radiant. Favored mainly by millenials, this statement look is bold, untamed and utterly captivating. Saddle up and embrace the spirit of change and individuality.
Back to School Hair 
From cute braids to preppy ponytails, back to school hair inspo is trending, with a +10,000% increase from last year. As the halls of academia fill with new students, it's the perfect time to debut a fresh, statement style that captures the essence of a youthful spirit. Try out retro accessories, such as scrunchies, hair clips and bows, as well as easy-breezy hairstyles like the half top knot, space buns or simple low ponytail. If you want to try a more permanent look, it's bangs all the way, baby!
Cherry Wine 
The beautifully burgundy cherry red wine hair color is making a splash, up by +10,000% from last year and particularly popular with American women in their 20s. With its deep rich undertones and hints of cherry, it glistens like a fine glass of red wine in the sunlight. Spice up your Fall with this intoxicating, head-turning color, it can be adapted to suit any skin tone - with cooler burgundy shades looking best on people with pink, olive or ebony skin tones and warmer burgundy shades looking best on peachy or golden complexions. 
Mom Cut
The ultra-versatile 'mom cut' is really having a moment, with 9,500% more searches than last year. Inspired by the timeless appeal of the classic mom hairstyle, this contemporary twist boasts a sleek shoulder-length silhouette, with soft layers and an expertly tousled texture. Most popular with women in their mid-30s to mid-40s, the flattering style strikes the perfect balance between sophistication and low-maintenance. Say goodbye to hours in front of the mirror with this coveted 'I woke up like this' look.
Choppy Chin-Length Bob 
Choppy chin length hair is enjoying the limelight, with a 9,500% leap from last year. This season, it's all about embracing the carefree yet undeniably stylish vibe and what better way to do that than with a fresh, edgy chop? Hugely popular across all ages, this chin-length bob is particularly flattering for round or oval-shaped faces and creates a fuller-looking finish for thin, fine hair. Create your own signature look by adding in some cheeky bangs or layers.