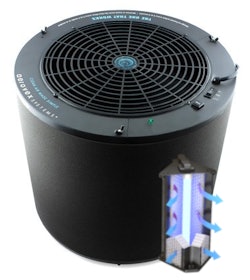 courtesy of Aerovex Systems
Aerovex Systems has refined its salon air purifier, The One That Works, with PCO technology.
With the continuing global concerns over the progression of Covid-19 into multiple variants, the public is much more aware of the importance of breathing clean air. "Salon owners need to assure their employees and clients of a safe and healthy working environment," says Jeff Cardarella, founder and president of Aerovex Systems. "We are here to help by supplying cost-effective products as well as clear information about proper salon ventilation and decontamination." 

FEATURES:
. • New PCO technology works to effectively neutralize Covid-19 viruses in less than three minutes.
. • Quieter, more powerful system targets more than 350 pollutants and covers up to 3,000 square feet of space.
. • Process uses enhanced hydrogen peroxide to actively disinfect indoor air and surfaces.