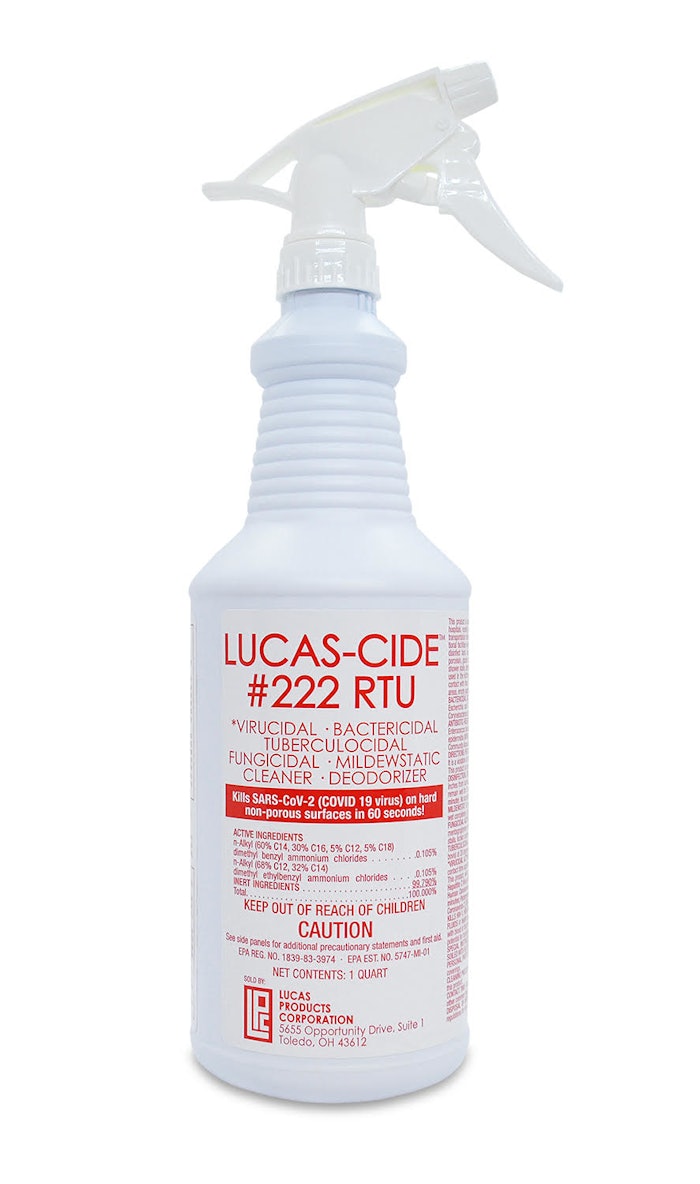 courtesy of manufacturer
Proper sanitizing and disinfecting protocols in the salon, spa and barbershop environment must be at the forefront of all client experiences, now more than ever. 
Lucas Products' new LUCAS-CIDE #222 RTU ready-to-use hospital-grade disinfectant has received a 60-second kill claim for COVID-19, allowing salons, spas and barbershops to save time cleaning between clients. 
LUCAS-CIDE #222 RTU is an acid-free, ready-to-use, all-purpose disinfectant, deodorizer and cleaner. This nonabrasive, pleasantly scented product is bactericidal, fungicidal and viricidal. It kills mold and mildew and inhibits their growth, as well as combats COVID-19, H1N1, HIV-1, hepatitis B, hepatitis C and more diseases.
Spray the mix on nonporous surfaces, including chairs, the back bar area, counters, nail stations, massage tables and waiting areas. It's also effective for cleansing nail implements, pedicure whirlpools, shears, brushes, combs, counters, styling tools, massage tables and spa showers. (Available in gallons and quarts—no mixing necessary.) 
Salon cost starts at $9.95 for 32 ounces.
You can visit the website or contact customer support at 419-476-5992 for more information.