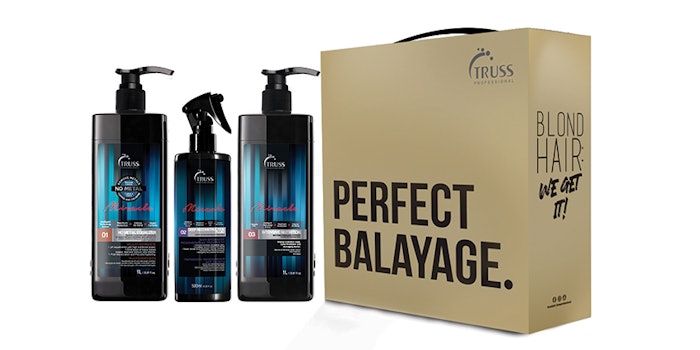 Truss Professional, the Brazilian manufacturer of high-end professional hair care products and specialist in the hottest categories inside hair salons, blonding systems and balayage, presents its latest launch, the Perfect Balayage Kit.
The Perfect Balayage Kit has everything you need to achieve the perfect blonde, avoiding those last-minute scenarios that can always happen when you don't know the hair history or when it's over-processed.
A Clean Canvas is Essential
No Metal Equalizer shampoo can be used after bleaching and before a color or straightening service. The shampoo promotes a gentle cleanse while keeping the cuticles intact and effectively removes heavy metals, chlorine, hard water minerals deposits and build-up. The shampoo also works to prevent swelling in the foils for predictable end results.
No More Panic at the Bowl
Deep Fluid Reconstruction stops breakage, strengthens hair and recovers damage caused by discoloration, coloring, straightening and thermal tools by strengthening the integrity. This instant reconstruction treatment provides anti-breakage and increases elasticity.
Hydrate Thirsty Hair
Intensive Nutrition provides hair with intense nutrition from the inside out with anti-aging properties and added color protection. Your blondes will be even more fabulous; and your client will leave with hair that is soft, silky and frizz free.