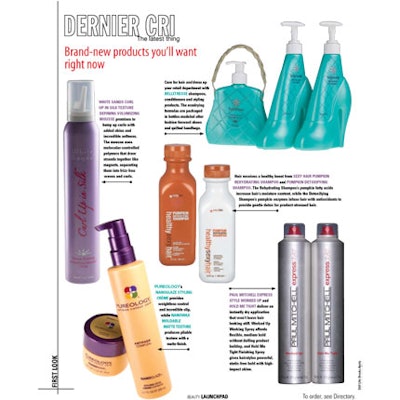 Hair receives a healthy boost from Sexy Hair Pumpkin Rehydrating Shampoo and Pumpkin Detoxifying Shampoo.
The Rehydrating Shampoo's pumpkin fatty acids increase hair's moisture content, while the Detoxifying Shampoo's pumpkin enzymes infuse hair with antioxidants to provide gentle detox for product-stressed hair.
Paul Mitchell Express Style Worked Up and Hold Me Tight deliver an instantly dry application that won't leave hair looking stiff. Worked Up Working Spray affords flexible, medium hold without dulling product buildup, and Hold Me Tight Finishing Spray gives hairstyles powerful, static-free hold with high-impact shine.
Care for hair and dress up your retail department with Belletresse shampoos, conditioners and styling products. The nondrying formulas are packaged in bottles modeled after fashion-forward shoes and quilted handbags.
White Sands Curl Up in Silk Texture Defining Volumizing Mousse promises to bump up curls with added shine and incredible softness. The mousse uses molecular-controlled polymers that draw strands together like magnets, separating them into frizz-free waves and curls.
Pureology's Nanoglaze Styling Crème provides weightless control and incredible slip, while NanoWax Moldable Matte Texture produces pliable texture with a matte finish.