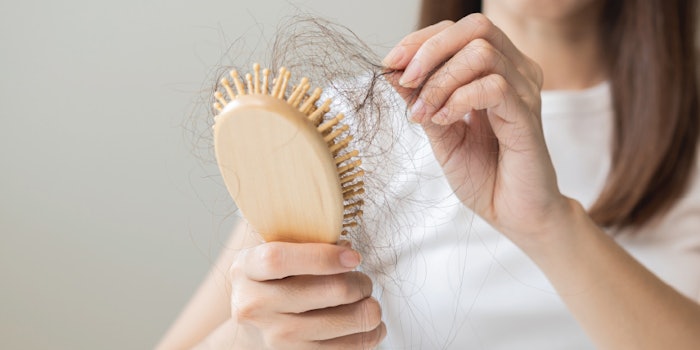 Hair loss can be scary for clients, especially if they don't know what is causing it or how to treat it.
In a recent Beauty Launchpad poll, 83% surveyed said that they have clients who are experiencing hair loss. As a stylist and salon expert, you may be the first person your client turns to for advice. Here, several beauty pros give you insight as to what may be causing your client's hair loss, how to treat it and what products are the best line of defense.
Why does hair loss occur? What are some of the reasons clients may be experiencing hair loss?
Lenita Griffis-Browning (LGB), Nu Standard Chief Education Officer: While genetics are the leading key driver to hair loss, unmanaged stress, nutritional deficiencies, poor hydration and physical stress from excessive manipulation are top contributors to hair loss that cannot be ignored.
Tim Abney (TA), Global Vice President of Education for Colorproof: Hair loss typically falls into three categories generally speaking: heredity, reduction in the hormone testosterone or the aging process but can sometimes happen due to using certain medications. Most research suggests that certain cases of hair loss can be attributed directly to deficiencies in the riboflavin, biotin, folate and even vitamin B12.
Dr. Brianna Diorio (BD), Director of Product Education at Nutrafol: It is important to understand that hair growth is multifactorial and not a one-size fits all approach, which is why we want to always address the multiple bio-specific root causes of hair thinning for men and women throughout their different life stages and lifestyles. Understanding hair biology, or how your body's interconnected systems impact the hair follicle, can also be a formative step when assessing why hair thinning and shedding is happening in the first place. There are hundreds of different physiological and biochemical triggers that impact each person differently when it comes to hair thinning, which is why it is so important to address the right trigger (or triggers) for the right person, depending on their individual needs, lifestyle and life stage. This means taking a look at all of the interwoven aspects of hair and whole body health including hormones, stress, lifestyle, metabolism, nutrition and biological aging.
Missy Peterson (MP), Senior Global Educator at Malibu C: There are numerous reasons for hair loss that can range from a basic shedding to an autoimmune issue. Sometimes, though, it could be as simple as the scalp is not in a great condition to support growth. Stress, illness and genetics are a few reasons to consider, but the culprit could be as simple as that the mouth of the follicles is blocked by complex compounds and the hair simply can't grow.
Ana Lima (AL), TRUSS Brand Specialist and Senior Educator: Hair loss can occur for a number of reasons. It can be from a major change in your diet, it can be stress related, a hormonal change or even a vitamin deficiency.
Paula Peralta (PP), Paul Mitchell Artistic Director: Hair loss could be related to aging, heredity or changes in the hormone testosterone. Hair loss can also occur due to poor health, diet, medications or stress. It could be thinning due to hair breakage caused from over or improper use of thermal styling tools or improperly used (or overused) chemical treatments.
What are symptoms of hair loss that clients should look out for and stylists should be aware of?
LGB: Clients should alert their stylist when noticing excessive shedding, especially when softly combing, brushing and touching. Also, if clients are experiencing a smaller ponytail in width, hairline thinning, itchy/irritated scalp and tiny bald patches, they should address this with their stylist immediately. Stylists should request that their clients provide samples of the hair to make sure it is not hair breakage from weakened hair bonds and actually hair fall-out, which shows the bulb of the hair strand. Also, stylists should examine the scalp of their clients to discuss any possible patches or thinning.
TA: The main things to be on the lookout for, whether you are experiencing the hair loss personally or you are a stylist who books appointments with clients, could be one or many of the following: 1) gradual thinning of the hair in one area or all over your head, 2) a particular section of baldness that grows slowly over time, 3) a receding hairline that becomes more and more prominent with each passing year, 4) a part line that gets wider and less dense or 5) a ponytail that noticeably becomes thinner over time. Keeping an eye on these determining factors could help you start a specific hair loss treatment sooner rather than later, so that you can hopefully slow down the hair loss and, in some cases, completely stop it in its tracks.
BD: There are a multitude of ways that hair thinning can show up. In fact, different root causes and biological states may appear differently with each person. One example is DHT hormones. For men, DHT causes changes in the hairline, whereas women may observe the impact of DHT as a widening partline. For women, changes to hormones such as progesterone, estrogen and cortisol during and after birth can also lead to increased shedding. Changes to metabolism in both men and women can influence how hair follicles receive nutrients from the body, leading to breakage and hair that is having trouble growing. Stress hormones, such as cortisol, can lead to hairs prematurely entering the resting phase, where hair sheds more easily not just at the hairline or part. Other ways it might show up is through compromised hair and scalp health, which can show up as weakened hair that is not as strong or an irritated scalp that is dry or oily.
What are some recommendations stylists can give to clients who are experiencing hair loss in order to prevent it going forward?
LGB: It's essential for stylists to approach the topic sensitively. For severe cases, stylists can encourage their client to seek medical advice from a healthcare provider or dermatologist. For milder cases and prevention measures, stylists should provide in-salon treatments and offer best practices and products that help reduce hair loss, such as improving nutrition, hydration and stress levels.
TA: I wholeheartedly recommend embracing hair loss with an inside/outside approach. It's a good idea to use supplements internally, approved by your client's physician, that target better hair growth like biotin, selenium, zinc, saw palmetto and ginseng. From the outside, it's a good idea to encourage your client to adopt a self-care scalp routine that involves weekly scalp exfoliation and applying topical ingredients like coconut oil, olive oil or other essential oils to nourish the hair and scalp more deeply. While targeting hair loss from the inside with supplements, it's equally important if not more important to create the optimum environment for healthier hair growth on the outside.
MP: Before a stylist can make an appropriate recommendation, they should see the scalp in detail and also do a full detox service. Removing all minerals, medications and product buildup is essential to get a true picture of what could be going on. To prevent possible future hair loss, the client needs to regularly have a scalp facial to make sure the hair has the best environment possible to thrive and grow. Healthy hair always starts with a healthy scalp.
What are good products to use for treating and preventing hair loss?
LGB: If unmanaged stress is the culprit, Nu Standard TAKE N GO Daily Hair & Scalp Vitamins can help elevate energy levels, improve digestion and reduce the release of cortisol (your stress hormone). We also recommend Nu Standard's WASH N GO Shampoo Butter Bar to cleanse the scalp. Scalp health is often ignored. Stylists should encourage clients to shampoo more often to avoid product buildup on the scalp.
TA: I am completely enamored with the performance of the Biorepair Thicken Collection from Colorproof. It's a collection of four products: Biorepair Thicken Shampoo, Biorepair Thicken Conditioner, Biorepair Thicken Scalp Serum and Biorepair Thickening Blow Dry Spray that all work together as a system to get to the root of the problem.
BD: The best course of action is to start internally and work your way out. This means improving hair growth by addressing the multiple root causes and triggers of thinning. Nutrafol is a great option for a daily hair growth supplement because they have five different biospecific formulas to meet you where you are on your current health, hair and life journey, including life stages such as postpartum or menopause. Next, layer inscalp care. Nutrafol has a great line of physician-formulated hair care products that provide additional support for thinning hair.
MP: Some hair loss can't be prevented, but it can be postponed by properly caring for the scalp. In the salon, I would recommend regular use of the Malibu C Head Lab detox service. To maintain the benefits of that in-salon treatment at home, I recommend the Scalp Wellness collection. The Vitamin C technology that is exclusive to Malibu C is the key to success.
AL: I highly recommend the TRUSS Scrub Therapy and Therapy Shampoo to any clients experiencing any sort of hair loss. This shampoo helps to promote hair growth by stimulating the blood flow. It also helps to cleanse the scalp from dryness, removing any flaking or any itchy scalp. A bonus tip for anyone struggling with thinning hair or excessive shedding, use a silicone scalp massager on your scalp once a day for a few minutes for additional stimulation and blood flow in between your wash days.
PP: In addition to following the advice of their doctor, in-salon services such as Awapuhi Wild Ginger Keratriplex and Intensive Treatment and Bond Rx are an excellent first step as they help to strengthen and protect chemically treated and damaged hair. Proper home maintenance products, tool selection and appropriate temperature settings, along with thermal protectants, make a huge difference. Awapuhi Wild Ginger, Tea Tree Regeniplex, Bond Rx and Hot Off the Press are great options.
5 Products to Treat and Manage Hair Loss
If you aren't sure where to turn to help your clients manage their hair loss, look no further. Below, we share five products that we recommend to help your clients experiencing hair loss.
Truss Professional Scrub Therapy and Therapy Shampoo contain apricot microspheres that help to exfoliate and cleanse the scalp. Together, the products work together to prevent hair loss and promote healthy hair growth. This duo is highly recommended for clients with hair loss, dandruff or even psoriasis. @trussprofessional
The HeadLab Intro Kit from Malibu C has every tool and product the professional needs to reveal what is real to their client by displaying real time digital images of the client's scalp, exposing product build up, sebum, dead skin cells, mineral buildup and other complex compounds. @malibucpro
Nutrafol Women's Vegan Nutraceutical naturally optimizes the body to support its own collagen and keratin production to successfully balance the underlying root causes of hair thinning for plant-based diets. Its key ingredients are shown to lessen visible hair shedding, improve hair growth and strength and promote faster growing, longer hair. @nutrafol
Colorproof's Biorepair Thicken Collection is a 100% vegan, drug-free therapy system that nourishes and treats the hair and scalp to promote optimum conditions for healthy, fuller-looking hair. The entire system is powered by a trademarked Phyto-CP Complex that includes active ingredients like biotin, copper peptides, pea sprout, tea tree and grape stem cells that work overtime to stimulate, energize, nourish and restore scalp health. @colorproofhair
Nu Standard's TAKE N GO Daily Hair & Scalp Vitamins are formulated to stop and prevent hair loss from mental stress. This supercharged, plant-powered multivitamin has the nutrients your body craves to help lower stress hormones, improve circulation and grow longer, stronger and healthier hair. @nustandardhair