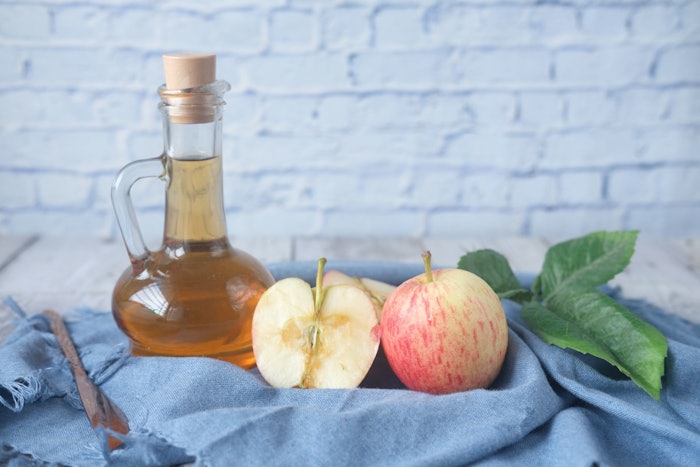 It's official: Apple cider vinegar (ACV) is no longer a quaint 'old wives remedy' — It has surged in popularity, with the hashtag #applecidervinegar pulling in 210M views on TikTok in the past 2 months and 988M views overall.
Many videos show users experimenting with using apple cider vinegar in their beauty routines, particularly focusing on how it can help to promote healthy hair.
Experts at All Things Hair turned to Google data to find out the biggest hair concerns people are seeking to treat with apple cider vinegar and whether or not it does actually help to resolve them.
Dandruff: 35,640 Google searches
The greatest number of searches by far were asking if apple cider vinegar can help with dandruff. Milena Prinzi, hair expert at All Things Hair, sheds light on exactly how this fermented apple juice combats dandruff and answers Google users' questions:
What causes dandruff and why is ACV a good treatment?
"Dandruff happens when a yeast-like fungus called Malassezia gets out of control by feeding on oils on the scalp," Prinzi explains. "The excess of fungus unbalances the normal pH levels on the scalp and disrupts the cell regeneration process. As a result, white flakes, odor and itchiness appear on the scalp. Apple cider vinegar has natural antimicrobial and antioxidant properties and acetic acid, which helps regulate the scalp's pH levels and target dandruff."
Which ACV is best for dandruff?
"Many versions of ACV vinegar are available, but to tackle dandruff, you want to choose one with the highest concentration possible of acetic acid. Why? This acid will target the unprecedented production of Malassezia, the yeast-like fungus responsible for dandruff," Pinzi shares. "Furthermore, acetic acid will keep the scalp's pH levels in check to eliminate flakiness and itchiness. You also want to choose a version of the vinegar that is raw, unfiltered and unpasteurized, and if you can see the good bacteria floating on the bottom of the bottle, even better." 
How do you treat dandruff with ACV?
"I'm a big fan of ACV as a scalp treatment and have used it for years. If your scalp can handle it straight up to target problematic areas, go for it. I usually dip a cotton ball and gently rub it on the scalp. However, this vinegar has a strong scent, so you should only apply it before washing your hair; 30 minutes to an hour before hitting the shower," Pinzi adds. "For my rinse, I purchase a spray bottle and mix 2 to 3 tablespoons of the vinegar in 8 to 10 ounces of water. Of course, you can adjust these measurements as you see fit and as your scalp's tolerance for the vinegar increases."
Hair Growth: 16,920 searches 
Prinzi is not so convinced on the efficacy of ACV for this condition, saying: "This might be an unpopular opinion, but as far as I know, apple cider vinegar does not help with hair growth. However, apple cider vinegar is one of nature's greatest alkaline and aids the body to balance our pH levels, which means it helps eliminate free radicals in the organism."
Prinzi continues adding,  "Due to these redeeming qualities, apple cider vinegar is a fantastic scalp cleanser. People have used apple cider rinse to soothe scalp itchiness, remove product buildup, control the overproduction of Malassezia, the fungus responsible for dandruff, and eliminate scalp odor produced by bacteria developed by scalp dermatitis. A healthy scalp is necessary for hair growth, but the regular use of apple cider vinegar doesn't necessarily mean you'll grow long strands. Since hair is mostly protein, eating a high-protein diet might aid hair growth." 
Hair Loss: 4,800 searches 
Prinzi does not think ACV would make much difference: "As far as I know, there's no scientific proof that apple cider vinegar prevents hair loss or stimulates hair growth. Apple cider vinegar is best known for its antibacterial properties, which can be applied to treat scalp conditions such as dandruff and dermatitis." 
Greasy/Oily Hair: 4,320 searches 
Prinzi confirms that ACV could help with this condition: "There might be a precedent to support this claim due to apple cider vinegar's natural cleansing properties. If used as a rinse or wash, ACV removes product buildup on the scalp. Since this vinegar is rich in antioxidants and balances the pH, it might control the overproduction of oil on the scalp and, therefore, less oily hair." 
Dry Hair: 960 searches
Prinzi does not think ACV is the right treatment for dryness: "I don't see how apple cider vinegar can hydrate dry hair because this vinegar has no moisturizing ingredients. Dry hair often needs the help of oils and vitamins to smooth its coarse texture and bring out the shine. If anything, I think apple cider vinegar will make dry hair drier." 
For more hair advice visit: https://www.allthingshair.com/en-us/