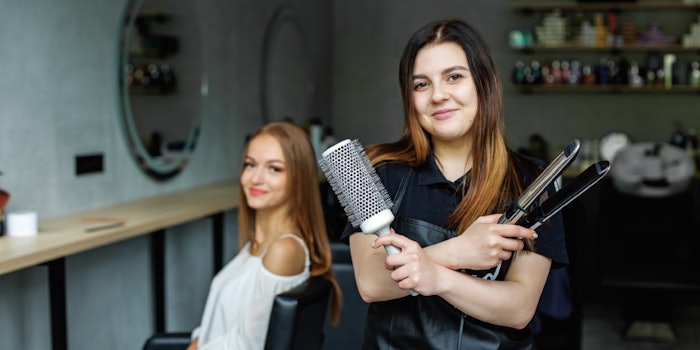 To ensure you—and your business—are running at their most optimum level, you need to have the proper support, whether in the form of an assistant hired to help you run your business; adhering to a set schedule; or implementing products that help boost efficiency. Let's examine all three of these aspects further.
[1] USE assistants as support. Let's talk about hiring an assistant and a support system. If you are a stylist and rocking your chair with 80 percent or higher in productivity, it's time to build your squad and allow for an assistant to help you offload the services that may be overwhelming you. Also, it's our role as industry professionals to give back to the next generation of hairstylists. The best way to do this is to ensure you can afford the onboarding of a new team member. The benefits that an assistant can bring to your business are limitless, from helping you with involved color applications to spending more time with guests at the backbar (for instance, providing a long scalp massage at the shampoo bowl).
[2] Set the schedule you desire. Are you saying yes to everything? Coming in way too early and staying late? Over time, this can make you feel overworked and burn you out. Set your schedule to align with your ideal lifestyle, and I promise your guests will align with your booking times. This will ensure you have more time, a better mindset and increased energy. Questions you'll want to ask yourself: What does my ideal schedule look like? How many days a week do I want to work? How many hours a week do I want to work? What days do I want off? When are most of my clients asking to come in? Once you have dialed in your perfect days, it's time to share with your clients. Boundaries are important, and this will help to create better work flow and time management.
[3] Tap innovative products. It's a fun and exciting time in our world with new innovations coming out that allow us to work more efficiently. Hair tools, foils and color brands are releasing an arsenal of productivity-boosting products. Load up your tool belt with new gadgets that are not only exciting for you and the client, but time saving! One of my favorites right now is ColorBow—a clip-comb for balayage, ombré, hair trimming, flat ironing and more—which provides increased speed and efficiency, bestows improved accuracy and allows for greater control. Another of my favorites is FastFoils, which are specially coated foils for highlighting that are activated by heat. FastFoils transfer and hold heat more effectively than many traditional foils, allowing for 25 percent faster processing time and eliminating the need for potentially damaging, higher levels of developer.