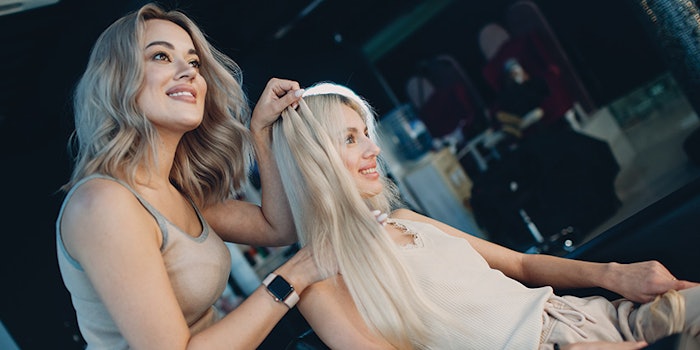 @thehaircutters_wakefield: When blowing out straight hair, always make sure it's completely dry to prevent moisture from making it frizzy.
@seanjameshair: Don't do clients that red flag you in the consultation–simply say no.
@taylored_look: Leave. It. Alone. Don't over-color, don't use heat too often, don't pile on products, don't use too much purple shampoo, and so on. [...] Do the colors and styles you enjoy, but don't overdo things.
@jane.society: If you have a lot of hair that takes a long time to curl, put it up in a ponytail and curl the pieces of your ponytail, then take it down. Touch up front pieces and top layer as needed.
@villettahairartistry: Leaving depth behind the moneypiece will make it "pop" more. With balayage, paint the hair section behind the moneypiece lower, or make sure you leave a veil directly behind the moneypiece if you're foiling.
@hanas_salon_inspo: Educate your clients on realistic expectations. We are trained and educated to make responsible decisions for our guests. Stay strong to your knowledge. Never be required to sway to meet a client's expectation!
@stephagram.__: Start with a lower developer when foiling and slowly bump it up so it finishes processing at the same time.
@jeweldoeshair: Thin slices for the best lift. Make sure you are fully saturating your sections. When doing shadow roots, I like to apply color horizontally in the back and vertically on the sides. Applying it vertically on the sides prevents any harsh lines of demarcation.
@chairsideconfessions: Remember, this is a service-based industry. Focus all your energy on providing the client in your chair with the best service, and everything else will take care of itself.
@mayhemilyhair: Get a water filter.
@jenpassionstyle: Let it process and don't rush!
@elajecambridge: Don't be afraid to be honest!
*Posts edited for length and clarity.
Check out Beauty Launchpad's October digital magazine for part 2 of Burning Questions, which praises some of the best mentors in the industry.