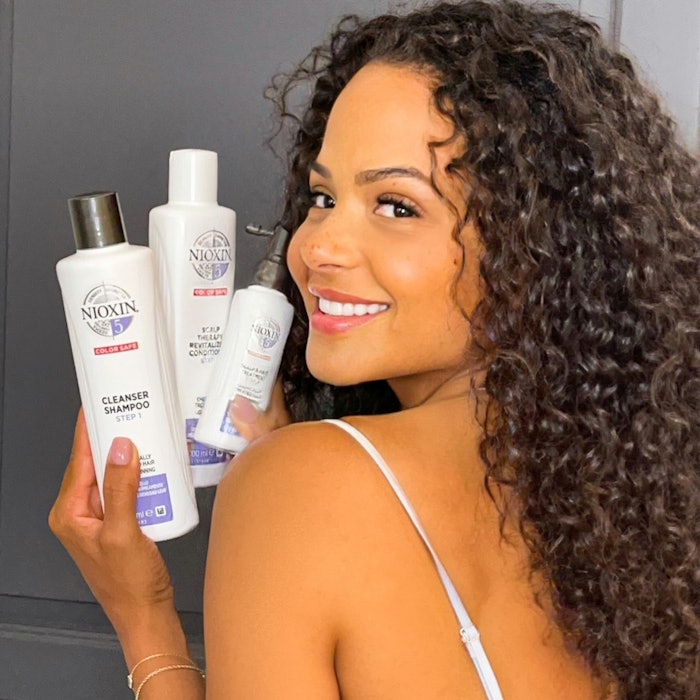 In honor of Hair Loss Awareness Month, actress and singer Christina Milian is joining forces with Nioxin to start a conversation about postpartum hair loss, which impacts 50 percent of women in the United States.
Milian said she started to notice that her hair was thinning and falling out about three to six months postpartum with her second child. Since recently giving birth to her third, she partnered with Nioxin to help fight hair loss this time around.
"It's so overwhelming, on top of having a newborn at home, which is stressful, and all of the hormones that come with postpartum, dealing with the emotional impact of thinning hair," she shared. "It really takes a toll on your confidence. I want to share my story because I know many other women are going through this who may not realize how common this is and that there are ways to treat it effectively."
Milian is currently using the Nioxin System Kit 5, which includes the Cleanser Shampoo, Scalp Therapy Revitalizing Conditioner and Scalp & Hair Treatment.
During a discussion with Milian and Nioxin, dermatologist Mona Gohara, M.D. spoke on the science behind postpartum hair loss and offered tips to help new mothers dealing with the often-taboo topic.
"Postpartum hair loss is our bodies' response to the physiological and emotional stress of giving birth. Our hair typically goes through a growth and shedding cycle, but after you have a baby, the hair shedding phase outpaces the growing phase, so we experience excessive hair shedding," Dr. Gohara explained. "Using the right products to help treat is key. Knowing that you are not alone, going to the doctor and trying to find solutions is critical. Keeping a healthy lifestyle postpartum is easier said than done with a newborn at home, but nourishing your body by eating foods rich in protein, biotin and vitamins and getting enough sleep and exercise are crucial in the long run to treat hair loss from the inside and outside."