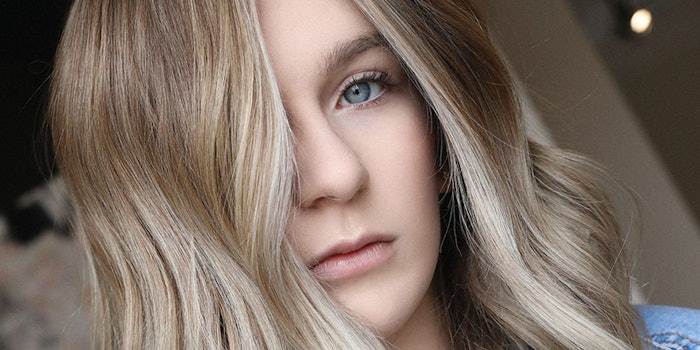 Low-maintenance, lived-in color continues to be a crowd-pleaser in the wake of COVID-19. Here, Cameron Kepford (@cameronkepford) breaks down his popular blonde softening technique that keeps his clients looking flawless in between sporadic appointments. "My clients love that the grow-out is seamless and they can go longer between sessions," Kepford says.
Starting Level: 6
Formula:
Prep hair with Wella Professionals Color Motion Pre-Color Treatment (Structural Surface Enhancer)
HIGHLIGHTS: Wella Professionals Blondorplex 10-20-volume
SHADOW ROOT: Wella Professionals Illumina 6/16 + 6-volume + Post Color Treatment 1:1:1
TONER: Wella Professionals Illumina 2:3 9/19 + 1:3 10/69 Pastel Developer 1:2
Technique:
Step 1. Prep hair with Wella Professionals Color Motion Pre-Color Treatment.
Step 2. Following the shape of the head, use arcs instead of straight lines to create softness with your foils.
Step 3. Depending on desired dimension, take less or more sections.
Step 4. Start with a low volume developer to preserve integrity.
Step 5. Beginning at the left or right temple area, foil to the recession, and then move to the opposite side to create balance while lifting.
Step 6. For the "money piece," go off your client's part line: slice, slice, weave, babylight, then teasy light, as pictured.
Step 7. Take diagonal back sections as you travel to the back of the head, taperingeach section.
Step 8. The first foil is a large weave feathered to the root.
Step 9. The second foil is a standard weave feathered a little lower.
Step 10. The third foil is a babylight feathered a little lower than the second.
Step 11. Process and rinse.
Step 12. Add WellaPlex No. 2, allowing 10 minutes to maximize results.
Step 13. Shampoo and towel-dry.
Step 14. Apply Shadow Root.
Step 15. Apply Toner.
Step 16. Comb through the hair for a finessed blend.
Step 17. Shampoo, apply Wella Professionals Post Color Treatment and condition.
Step 18. Blow-dry and style.