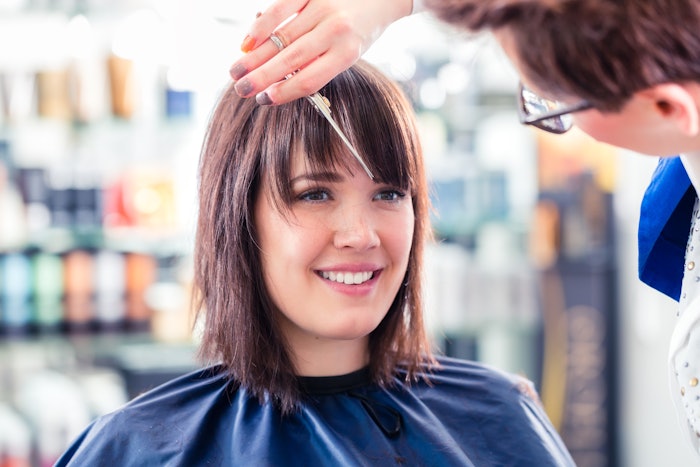 Bangs and fringe are the easiest way to change up a style, and more and more guests want them. 
Brush up on the various styles to deliver any version with confidence.  
Twylla Jane, owner of Lumos Nox Salon and Redken Artist (@twyllajane), shares her latest bang transformation here.
"Bangs are a great way to 'accessorize' a haircut or add a new bit of interest to change things up. Depending on how much texture the hair has naturally, they may fall straight or need minimal styling if hair has a little texture," says Jane. "And, because there are so many different types of bangs these days, the consultation is really important to help decipher which type of bangs your guest is hoping for."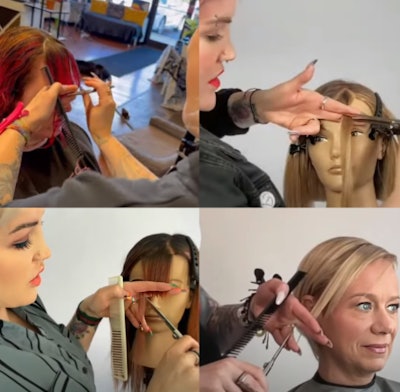 Blunt Bangs: Also known as straight-across bangs, they are cut in a straight line across the forehead and can be cut to various lengths, from just above the eyebrows to just below the eyebrows.⁠
Side-Swept Bangs: These bangs are longer on one side and are swept to the side, either covering one eye or framing the face. They can be cut at an angle or in a curved shape.⁠ ⁠
Curtain Bangs: Parted down the middle, this fringe frames the face on both sides. It can be cut to various lengths and swept to the sides or left to hang down the middle.⁠
Wispy Bangs: These bangs are cut with a lot of texture and can be worn straight or styled with a bit of a tousled, messy look. They can be cut to various lengths and can be blended in with the rest of the hair for a more subtle effect.⁠
Micro Bangs: Micro fringes are good for most anyone looking to add bold drama to their look. They are very short, expressive and expose facial features, especially the eyes. For the best result, examine the hair line for growth patterns that may affect how the fringe lives. 
Jane breaks down which bangs look best of the different types of face shape:
On face shapes that are wider, like square or circle, a bang that is shorter in the center and longer on the edges is highly flattering. 
Face shapes that are longer look great with a straight across bang.  
Full bangs, when cut right to compliment the face shape and features can look great on just about anyone.
"The only time to be concerned is when someone has an unruly cowlick in their front hairline, this can take quite a bit of fuss with styling which may not be ideal for all.  In this case, I recommend switching to a shorter curtain fringe and use the natural split in the hairline to your benefit," Jane explains.